Ripe for the taking: Exactly how many addresses are left?
Axel Pawlik, the managing director of IP address allocation registry RIPE Network Coordination Centre, told us that, especially in light of the big marketing play from some tech outfits with IoT, "the sluggish adoption rate of IPv6 is going to be a problem if that doesn't change."
According to RIPE NCC, there were, as of 21 April, 13.77m IPv4 public addresses left for the regions it manages: Europe, the Middle East and parts of Central Asia. Its US counterpart ARIN (the American Registry for Internet Numbers) – which covers Canada, the United States, and many Caribbean and North Atlantic islands – is now down to its last 16 million or so.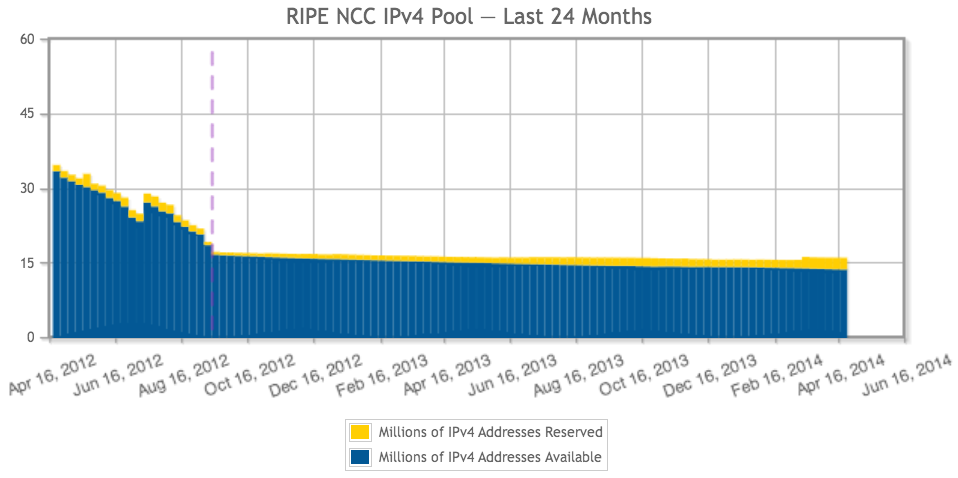 Available public IPv4 addresses from RIPE NCC stats ... Yellow addresses are reserved in quarantine, blue are available for use (click to enlarge)
It's not a completely doomed picture, however. According to figures last year from web content distribution network Akamai, a number of European countries, along with the US and Japan, were at the forefront of IPv6 adoption.
We asked Pawlik to explain why it is he believes that the widespread take-up of IPv6 was still being resisted by some businesses.
"Unfortunately it's a little bit late," he warned. "We thought the world would act in a grown up way, but well..."
This shows the source of requests to Akamai web servers
using IPv6 during a 24-hour period in May 2013.
Significantly, the UK – as this table demonstrates – is way behind.
Middle management types at larger corporations were particularly weary of rushing to IPv6, said Pawlick. He added that bigger companies were "not as flexible" on the protocol.
He was alarmed by our recent story that showed BT responding slowly to the fact that the IPv6 SSL certificate on its consumer website remained expired for about three weeks before the telecoms giant fixed the embarrassing cock-up.
"I am very disappointed in BT," he said, adding:
It's the big corporate structure that, I believe, is just too slow to get official projects through the ranks and being approved, risk assessment and all that type of thing. That's where we see the pain.
Pawlik added smaller companies were "always very flexible and very forward-oriented so, of course, they do IPv6 and there's nothing wrong with that. But until that filters through to the mother companies, it's a case of too many people to convince, too many committees."
The RIPE NCC boss agreed that the attitude appears to be "if it ain't broke, don't fix it". He said that, for IoT to be successful, it needs a protocol that allocate billions and billions of IP addresses to countless devices:
Certainly you can work with IPv4 addresses and stack them on top of each other and network address allocation ... and you can multiplex them, all those complex engineering solutions and they seem to work for a while, but all the experts say 'yeah, go build on that', and at some point it's too complicated, it will collapse and the functionality will go away and then of course you have all the very disappointed customers who say 'oh, I bought my lightbulb but now I can't switch it on and off anymore because I can't reach it on the internet.' the obvious way out is IPv6 and more addresses.
Can IoT gimmicks enthuse UK businesses enough to shift over to the internet addressing scheme? Probably not. After all, workarounds using IPv4 are still largely in play. Networks might get clunkier in the meantime. But IoT is hardly the killer marketing ploy to drag us kicking and screaming into the future. Unless, that is, yet-to-actually-be-purposefully-connected fridges or fitness bands that give you sweat rashes and monitor your heart beat are your thing.
The Register was naturally keen to seek the views of BT for this article. We were hoping to speak to the telco's Tim Rooney, who heads up IP address management at BT. The company, however, declined to offer up any comment beyond its previous statement to us in March this year when it said BT was "fully committed to IPv6 and has exciting plans for IPv6 in 2014."
Funny that. ®
Similar topics