This article is more than 1 year old
Minecraft players can now download Denmark – all of it – in 1:1 scale
Government recreates homeland in 1TB motherlode
Players of the popular sandbox world Minecraft have a new landscape to roam over, as the Danish government put a representation of the entire country in 1:1 scale online for download.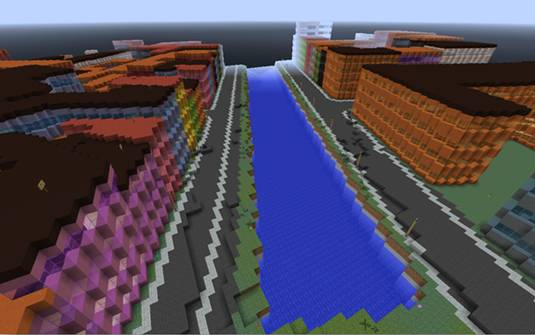 The Nyhavn district of Copenhagen in Minecraft mode
"All of Denmark is now a virtual world in the ratio 1:1 inside the Minecraft – thus you can freely move around in Denmark, find your own residential area, to build and tear down as you can in whichever any other Minecraft world," said the Danish ministry of the environment – in a Google Translate word-mangle - we hasten to add.
The Danish Minecraft map uses 4 trillion Minecraft bricks to make up the model, and the entire country will take up a terabyte of space on your hard drive. For ease of use download, the country has been split into three sections (north, south, and the Eastern Islands,) with each having its own server.
The model has been created using mapping data from the Danish government, since making it by hand would take centuries of game play. The map is geographically accurate, although for simplicity's sake all roofs are flat rather than peaked.
The Danish government asks players to abide by some basic rules: no swearing or bullying will be tolerated in-game and the use of TNT has been banned, but the world is otherwise customizable. If you want to try out ambling down a rather blocky version of Aarhus, romp through Roskilde, or create new parts of Copenhagen, know that the data will be available for download only until October 23 – after that the map will only be available in smaller chunks. ®