A 19-year-old Tennessee girl cuffed earlier this week for allegedly driving with a suspended licence is in a spot more bother – after jail officers reportedly discovered a loaded .22 revolver in her vagina.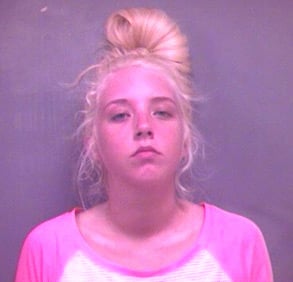 Pretty in pink: Dallas Archer's police mugshot
Dallas Archer was pulled over in Kingsport on Monday afternoon and hauled to the city jail, according to official police paperwork. During a search, a female officer identified an "unknown object" in the perp's crotch area, which following extraction turned out to be a "North American Arms 22 LR revolver (loaded)", as the cops' report puts it.
Archer is now facing "possession of a firearm, introduction into a penal facility* and possession of stolen property" raps. The latter charge is because the firearm was stolen back in 2013 from the car of 70-year-old John Souther.
When The Smoking Gun told Souther exactly where his $200 piece had turned up, he exclaimed: "Oh gosh."
The gun's owner expressed a wish to get his hands back on his four-incher, but suggested a "bath in bleach" may be in order.
Back in 2003, a Jamaican woman who retrieved her stolen mobile phone from the thief's vagina likewise declared she was "going to have it properly sanitized before using it again". However, one disgusted local chap declared: "Mi nuh wan' dat deh phone fi use again, mi would dash it weh." ®
Bootnote
* I actually first read that as "introduction into a penile facility", which makes perfect sense in the context.