After several quarters of losses, Barracuda Networks has made a profit in its final three months of fiscal 2014, ended 28 February, paving the way for a profitable 2015.
Revenues were $60m in the quarter, up 15 per cent year on year, and a sliver up on the third quarter's $59.4m. Net income for Q4 2014 was $3m, which compares to a $1.8m loss a year ago and a $2.1m loss in the third quarter. For the full year, Barracuda bagged $233.8m in revenue, up 18 per cent year on year, and made a GAAP net loss of $3.6m – in fy2013, it lost $7.39m.
The biz touts security and storage appliances and service subscriptions. Appliance revenue in Q4 fiscal 2014 was $18.3m and recurring subscription revenue grew to $42.0m, representing 70 per cent of total revenue. Some 7,900 new active subscribers came on board in the three-month period, taking the total to more than 205,000.
The compound annual growth rate (CAGR) in revenues since fiscal 2011 has been a tasty 18 per cent.
William Blair analyst Jason Ader said: "Gross billings of $82m were up 18 per cent year-over-year, representing the fifth consecutive quarter of acceleration ... [with] a 96.1 per cent dollar-based subscriber renewal rate."
Barracuda recruited EMC exec BJ Jenkins to be its CEO in October 2012, re-capitalised to the tune of $130m at roughly the same time, and went through an IPO in November 2013, raising $75m with a share price of $18. The shares now trade at $27.69.
Jenkins had a prepared quote about the results: "We made good progress in the fourth quarter across all of our markets and product categories, especially our higher growth market categories of network and application security and storage, which are becoming larger portions of our overall business."
Barracuda is expanding its security and storage product offerings and making them available for public clouds, such as Amazon's AWS and Microsoft Azure. It depends less on content security than it did in 2010 and now its business is a rough three-way split between content security, storage, and network and application security.
Analysts at IDC reckon Barracuda was number one in purpose-built backup appliance shipments in the first half of 2013: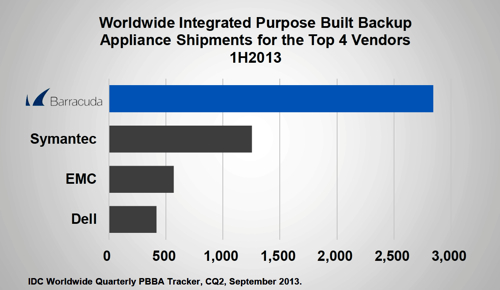 Barracuda expects revenues between $63.5m and $65m next quarter, with the full fiscal 2015 revenues being between $269m and $273m, a 16 to 18 per cent increase on fy2014.
The company is progressing in backup with simple-to-use and managed products and services. It aims to apply the "Barracuda formula" to enter new products categories and markets. Barracuda Copy was an example of that.
We in the Vulture's storage desk wonder about Barracuda's storage product and service roadmap, and reckon it has interesting things in it to sustain the company's growth. ®