This article is more than 1 year old
Awkward? Elop now answers to ex-junior Nadella as Microsoft closes Nokia buyout
Who are you, you wet-behind-the-ears little scamp?
Microsoft has closed its $7.1bn garbage-trucks-colliding deal to buy Nokia's struggling mobile handset business.
The software giant announced the successful completion of a seven-month campaign to take ownership of the Nokia unit, announced last September.
Nokia now becomes the Microsoft Devices Group, headed by Nokia's former chief executive Stephen Elop, now the new group's executive vice president.
In an interesting dynamic, Elop will report to Microsoft's new CEO Satya Nadella, who was a mere senior vice president for research and development in online services – covering Bing – when Elop last drew a Microsoft salary. Elop was a Microsoft a group president while Nadella was in the R&D wing.
Elop quit in September 2010 to become Nokia's first non-Finnish CEO.
It was both men's former boss, Steve Ballmer, who announced and brokered the deal to bring Nokia onto the Microsoft mothership.
The awkwardness of the two execs' positions has been helpfully illustrated by Microsoft in a completely unposed photo shoot, below. Nadella and Elop are striking out in the Finnish/Washington State winter tundra, minus suitable clothing, with Elop tightly gripping his only asset - a Nokia smartphone.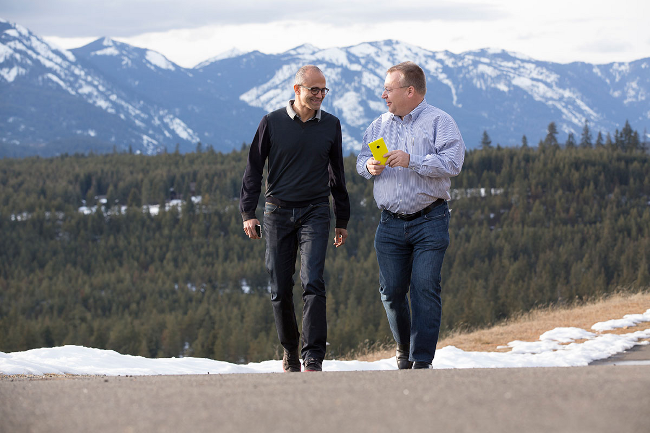 Nadella and Elop: Cold here isn't it? Wait 'till we're working together.
Under the deal, Microsoft is now taking on 25,000 Nokia staff, meaning its corporate head count now busts the 100,000 head barrier by a country mille.
With the staff come a number of Nokia manufacturing plants, although not – as was hoped – plants in Masan, South Korea and Chennai, India.
According to Microsoft last year, owning Nokia made sense because it brought "proven capability and talent in critical areas such as hardware design and engineering, supply chain and manufacturing management, and hardware sales, marketing and distribution."
Today, Nokia is Microsoft's single-largest supplier of Windows Phone handsets to the market while Windows Phone's market share is less than five per cent.
The deal is supposed to give Microsoft the hardware manufacturing and engineering expertise to build Windows phones, tablets and phablets.
The deal marks the end of a grand turnaround plan from Elop that was supposed to save Nokia.
Elop was brought in by Nokia's elders in a last throw of the dice to turn around the company's plummeting market share against Apple and Android. Elop's grand plan was to commit Nokia to Windows Phone on its smartphones, dumping Symbian and Linux.
In February Nokia did a U-turn on Elop's Windows Phone-only policy, unveiled in 2011, by announcing the X Android-powered range.
The phones are supposed to help Nokia capture the "next" billion smart-phone users.
Elop's plan was in tatters late last year as his company announced net sales for the phone business was down 29 per cent for the fourth quarter to €2.63bn ($3.6bn). Net phone sales for the full year were down 29 per cent, to €10.74bn ($14.71bn). ®