The countdown to this year's Live Below the Line challenge has begun, and next week, the elite El Reg Quid-A-Day Nosh Posse will attempt to survive for five days on a food budget of just £1 per day.
I did the challenge in 2013, and raised a good wedge of cash for Malaria No More UK. Magnificently, five brave souls have agreed to join forces with me under the Register banner for this year's ordeal, and together we hope to surpass last year's fundraising effort while not succumbing to the effects of beer/bacon deprivation.
Here's a bit of info on the team, excluding Michael Brown, who hasn't yet provided details of his cunning five-day survival plan:
Neil needs no introduction to fans of our Low Orbit Helium Assisted Navigator (LOHAN) mission. He's the man behind the Special Project Electronic Altitude Release System (SPEARS) board, and has applied his usual scientific approach to the quid-a-day challenge.
He'll be sharing hunger pangs with missus Anita Wegner, and provided a detailed spreadsheet breakdown on their initial budget for the week, an extract of which we publish here for your viewing and culinary pleasure (click for embiggenment):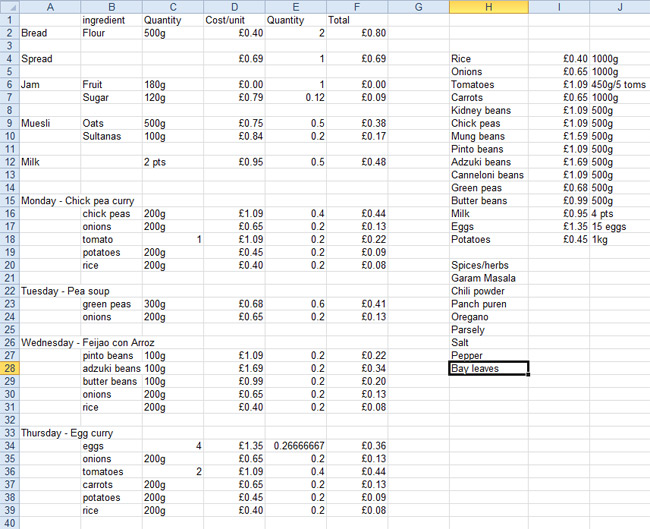 As you can see, Neil has a proper meal plan, utilising small amounts of multiple ingredients. Availability and price meant tweaking the original shopping list, and the final grand total spend is £9.45 for them both, "if Anita doesn't eat the 33p cucumber", he notes. The balance, assuming the cucumber stays in the fridge, will go on herbs and spices.
Here's some of his stockpile. Obviously, he won't be using everything here: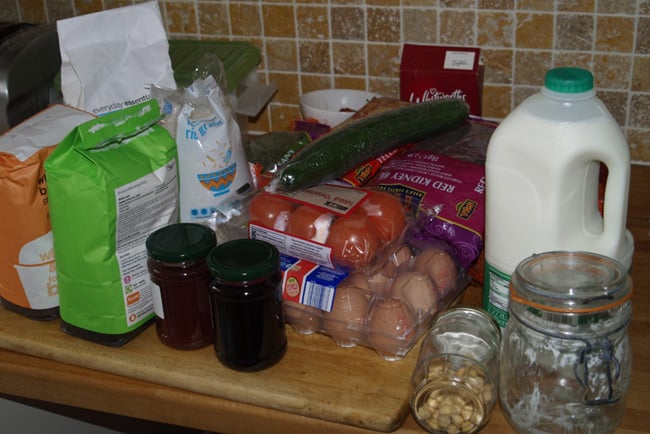 Anita: Stay away from that cucumber
He'll be baking his own loaf of bread - "a 50 per cent wholemeal sourdough made with a natural starter which is recycled after every bake".

Feeding the kneady
Quite sensationally, Neil has managed - in best SPB tradition - to squeeze no less than two rashers of bacon onto the menu. We invite readers to speculate on how long they last. The clever money says they'll be gone by Tuesday lunchtime
We also invite you to offer an additional big up rispek to Neil, since he's diabetic. He told me yesterday: "I had check-up today and the doc suggested I probably won't die on this. She'd like more fruit in, but apart from that she's cool."
Toby describes himself as "a hardcore geek currently forced to prostitute my skills in the City of London as a contractor."
He explained his motivation for taking up the Live Below the Line challenge thus: "My four-year-old daughter does not believe that anyone in the world goes hungry so this is a good way of showing her that people do have to live on little or no food."
Toby's going shopping tomorrow in the "not particularly historic Roman road market to bag myself some bargains". He said: "If I get cheap rice, bread and some vegetables that should see me through five days of minimal sustenance. I still need to investigate how I can get some protein on the cheap."
He intends to bookend the week with pre-emptive and remedial feasting, and elaborated: "My plan is to stuff myself the day before the start of the live on a quid a day challenge. Some sort of huge gourmet burger and chips is called for.
"I'm getting married on 3 May so will be ending my self-imposed starvation with a huge blow-out wedding lunch."
Nice one. We'll have more details on the results of Toby's shopping trip on Monday.
Chris is a long-term Reg reader, based in Spain. He earns a crust as an identity management consultant and when he's not at the coalface or "bringing up two fantastic children", he likes to wrestle alligators.
He told this sceptical hack: "Yes, I really do wrestle alligators. Any chance I get, any time I see an alligator, I'll wrestle it."
Alligator will not feature on Chris's menu for next week. He's budgeted €4 for 1L milk, 250g lentils, 500g rice, 250g spaghetti, six eggs, 250g chickpeas, 200g rolled oats, 10 slices of bread, 150ml of oil, 25 teabags and a some stock cubes and spices. Here's his basic stash: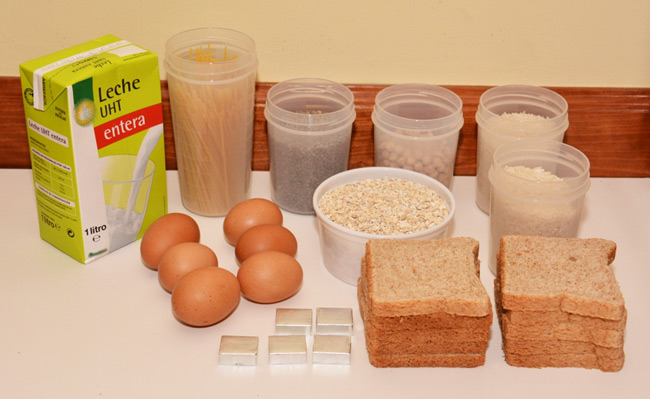 No alligator, sadly
Regarding the remaining €2 (£5 = €6, for the purposes of this challenge), Chris said: "I'll go to a street market and get as much fresh veg as possible. It's about 7km away but in the spirit of keeping costs low I'll don my rucksack and walk it. I don't eat much meat anyway so the plan is basically to have a bit more porridge than usual for breakfast and a couple of filling meals during the day."
He added: "I feel it should be noted that next week is a very bad week to do this challenge. I'll be going to a client and this client has a canteen. I like canteens. No, more than that, I really, really like canteens."
Well, our sympathies are with you mate. When I first asked Chris why he was doing the challenge, he explained: "I saw the challenge last year and thought it might be a good thing to try. We already donate money to food kitchens as we feel that the benefit goes straight to those who need help rather than it get lost in corporate overheads so this would be an extension of that.
"I know it seems like playing at being poor for five days and the experience can't even begin to reflect the reality of constant hunger but at least it's doing something."
Quite so. As for my own five-day plan, it's basically the same as last year with an interesting added twist, to be revealed on Monday.
In the meantime, we invite the better fed among you to flash the plastic in support. Each individual nosh posse member will of course be nagging friends and family to open their wallets, but the non-partisan among you can donate to the entire team right here. ®