Lost treasure of Atari REVEALED
E.T. cartridges-a-plenty found in New Mexico landfill
Yes, Atari really did bury lots of cartridges for a dud game titled E.T. the Extra-Terrestrial in a New Mexico landfill, according to film-makers who broke out the heavy digging equipment late last week.
A recap for the uninitiated: In 1983, as The New York Times reported, Atari secured the rights to turn E.T. the Extra-Terrestrial into a video game. The results were beyond dreadful. That was bad news for Atari because it had made lots more cartridges of the game than it could sell.
That led to a decision to dump the unsellable cartridges rather than to incur the costs of hanging on to them. The E.T. fiasco helped Atari to record a quarterly loss of $US310 million, which in 1983 was real money.
Despite reports like The New York Times' effort making it plain the cartridges were dumped, the incident acquired the status of an urban legend. Last year, Canadian film outfit Fuel Industriesset out to prove once and for all if E.T. Really did find a subterranean home in a New Mexico dump.
Numerous reports now suggest the legend is true. The Associated Press reports and carries images of the dig, complete with images of cartridges and packaging.
Microsoft's kicked in some of the funds to make the search, and resulting film, possible. It's also posted the image below, depicting producer Jonathan Chinn with one of the cartridges found on site.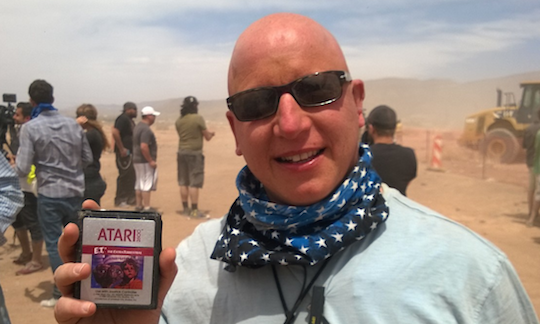 One of the E.T. the Extra-Terrestrial cartridges recovered from a New Mexico landfill
There's no word on whether the cartridges work, but geek author Ernest Cline is trying!
Me and @mikejmika are trying to bring these ET carts from the Atari graveyard back to life! Wish us luck! #diggingEt pic.twitter.com/BZJ9YZA3AE

— Ernie Cline (@erniecline) April 27, 2014
There's no word yet on how many cartridges have been found. But images like those above are raising more than a few eyebrows because 30 years in the ground seems not to have done an awful lot of damage to either the plastic cartridges or the cardboard boxes in which they were packaged.
E.T. might just be about to teach us another lesson about how precious life is on our remote blue marble. ®