This article is more than 1 year old
Backup biz CommVault to Wall St: Cheer up, lads. We just need MORE SALES REPS
Lower-than-expected Q4 results accompany 'under-hiring' spree
Results are in for CommVault, whose final 2014 quarter showed a revenue rise and a slight drop in profits, missing Wall St's estimates. But the biggest surprise to analysts was its concession that it had "under-hired" in Q4.
The Simpana data protection and archiving software shipper found analysts were not sympatico when it unveiled results below Wall Street's expectations. Revenues in the fourth quarter ended 31 March 2014 were $156.8m, 13 per cent higher than a year ago, but just 2 per cent sequentially. Net income was $15.7m for the quarter, a decrease of $1.3m compared to the same period of the prior year.
Why was the fourth quarter disappointing? Chairman, president and CEO N Robert Hammer said there were "lower than forecasted results in the Americas, which negatively impacted our licence revenue growth for the quarter. The results in the Americas were surprising given our large enterprise deal funnel and good outlook for the quarter as of our prior earnings call."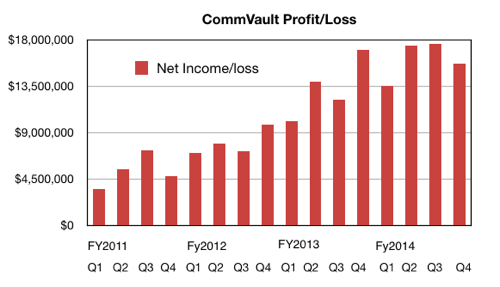 Net income for the full 2014 year was $64.1m on revenues of $586.3m. In the 2013 financial year the equivalent numbers were $53.2m profit on revenues of $496m.
Stifel Nicolaus MD Aaron Rakers said of the results: "CommVault saw large deal slippage at the end of F4Q14," adding that analysts at his firm estimated this as being equivalent to "up to 10 large ($1m to $5m+ average size) deals".
William Blair analyst Jason Ader pointed out "licence revenue grew by 10 per cent year-over-year, shy of the Street's 14 per cent growth expectation, with management blaming lower close rates on large enterprise deals in the Americas, with no consistent theme to explain these lower rates (though competition was ruled out)."
Booth analysts mentioned that CommVault found itself short of sales people in the fourth quarter and taking action, with Rakers mentioning a "needed sales and marketing headcount expansion" and "under-hiring in fiscal 2014 (specifically in sales and marketing.)"
Ader said there was "understaffing in the core enterprise business in the Americas (due to lower-than-expected hiring in fiscal 2014), which left the company more dependent on very large deals in the quarter."
He writes that the company plans to significantly ramp up its salesforce hiring in the first half of fiscal 2015.
CEO Hammer commented in the earnings call (via Seeking Alpha):
Given our strong strategic position, we believe that the key determining variable in achieving our growth objectives [is the] number of effective sales teams. The Americas team has suffered from sales team understaffing throughout FY 2014.
The international operations reported better results than the Americas and CommVault has re-organised its EMEA operation, with new regional leadership and many new enterprise sales reps. APAC reorganisation is following similar lines but is a year behind EMEA, according to Rakers.
Ader contributed this thought: "We believe that outdated pricing for certain products and what management termed 'a dramatic acceleration to the cloud over the last six to nine months' also look to have contributed to the soft results and outlook."
Then he added this:
We believe that the slowdown is not attributable to competitive pressures. However, we do believe that the secular shift from on-premise to cloud-based backup may be creating a pause in the traditional backup market.
CommVault has added cloud functionality to Simpana and has some 200 cloud service provider customers. But its outlook is likely to improve. Ader says it has developed "its cloud-focused salesforce over the last two years, and expects to triple its cloud investments in fiscal 2015". ®