Firefox 29 has left beta to become the latest stable release for desktop PCs and Android devices. The new version sports a long-promised user interface overhaul, new customization options, and an improved data sync feature.
In a blog post on her personal site on Monday, Mozilla senior user experience designer Jennifer Morrow compared the old Firefox UI to a sinking ship and said one could think of the redesign as "a new hull."
"It's not an interface adjustment or tweak," Morrow wrote. "It's not a bug fix. It's a complete re-envisioning of Firefox's user experience, and it's been brewing for the past five years."
Long story short, the Mozilla browser's "Australis" redesign means it is now virtually a dead ringer for Google's Chrome, although it does offer a few unique features if you look past the surface.
Gone is the familiar orange Firefox menu in the upper left of the desktop browser window. In its place is a new menu to the right of the URL bar (just like Chrome) that's activated by clicking an icon of three lines stacked on top of each other (just like Chrome).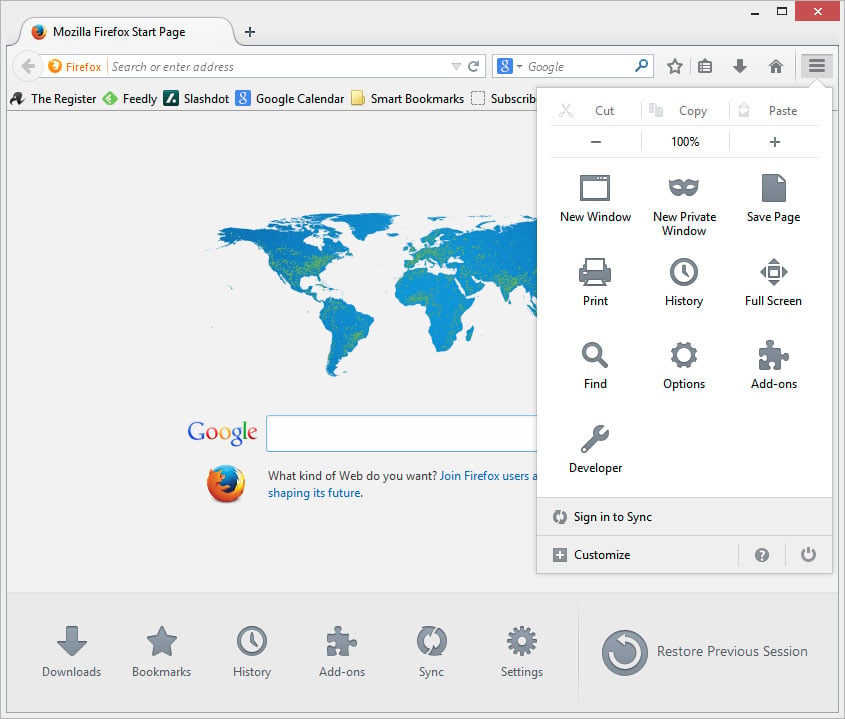 Some things old, some things new ... and some things borrowed, too (click to enlarge)
Unlike Chrome, however, where the menu is a traditional pull-down composed mostly of text, the new Firefox has given us a grid-like menu full of icons that you click to navigate the various options. The default Firefox homepage also now includes similar icons that provide easy access to many of the same functions.
Another Chrome-like feature is single-click bookmarking via a star icon – just like Chrome, only it now comes paired with a new icon for the Bookmarks menu so you can create and manage bookmarks from the same place.
Firefox 29 also marks the official debut of the improved Sync feature, which is powered by Mozilla's new Firefox Accounts – yet another Chrome-ish concept. The new service is now included in both the desktop and Android versions of the browser.
Overall, if you were pleased with the design decisions Google made with Chrome, you'll be happy with Firefox's new direction, which Mozilla says was designed "to reflect how you use the Web today." If, on the other hand, you preferred how you used the web yesterday, you might be disappointed.
One thing Firefox prides itself on, however, is its high degree of customizability. If you don't like the new defaults, Firefox 29 still supports over 300,000 available Appearance Add-Ons, including so-called Complete Themes that can change the look and feel of the browser radically.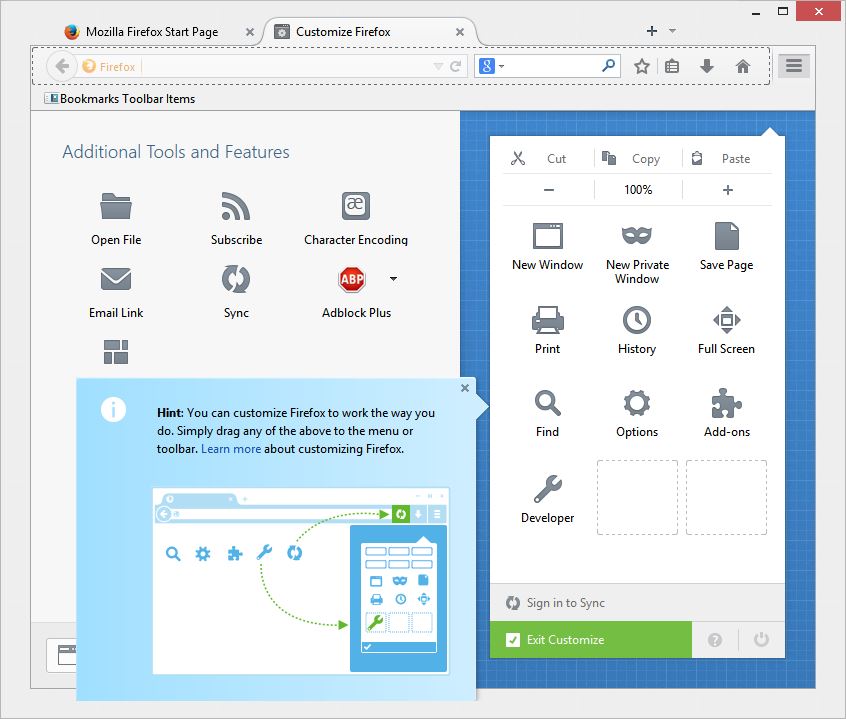 A new, drag-and-drop console makes Firefox easier to customize (click to enlarge)
The new version also introduces a significantly reimagined customization mode, which allows users to reconfigure menus and toolbars via a single, drag-and-drop interface that replaces the inconsistent customization methods of earlier versions.
One thing Firefox 29 does not include, however, is a touch-centric mode for the Windows 8 Start Screen. Mozilla developers had been working on such a feature on and off for years, but in March the decision was made to cancel the project based on limited interest from testers – although the code is still available for anyone dedicated enough to build it on their own.
Firefox 29 is available for download now from Mozilla's homepage and from the Google Play store for Android devices, and it will begin rolling out to current users via the browser's built-in update feature over the coming days. ®