Windows Phone: Just as well Microsoft bought an Android maker, RIGHT?
Can nothing halt little green robot's march over mobes?
---
Comment If you believe those who are less than impressed by "Nokiadroid" offerings, Nokia's Android phones are an embarrassment for their new owner.
Jokers have quipped that whenever Microsoft's Windows Phone chief Joe Belfiore is asked about it, he reacts like a teenager whose divorced dad has been seen dating a young stripper. But maybe Microsoft should hang on to Android after all.
Polling by Kantar's WorldPanel suggests that Windows Phone's market share reached a plateau in the first quarter of 2014, maintaining the gains it made in 2013, but failed to eat further into the duopoly of iOS and Android.
The Microsoft-made mobile OS's share of the big China and US markets fell, and while it added to gains it made in Europe, up 1.6 percentage points from 6.5 per cent to 8.1 per cent in five major European markets. (In Italy, Windows Phone outsells iOS.)
Apple fell 7.8pp to retain just 35.9 per cent of the United States, with Android picking up 8.3pp to rise to 57.3 per cent of US handsets, although in Europe Apple has held steady – buoyed, no doubt, by saturation advertising.
The reasons are twofold. Windows Phone's share is largely down to one model: the Lumia 520, and that hasn't had a refresh for almost a year. The successors, the 630 and 635, will only hit the distribution channel next month. Meanwhile, heavy discounting of newer Android models has eaten into the 520's attractiveness in the bargain basement.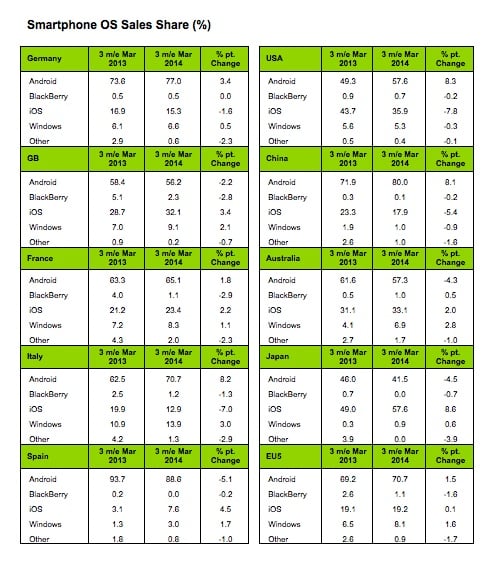 Q1 2014 Market Share, Smartphones. Source: Kantar WorldPanel
"Windows had a tough start to the year as a result of its entry-level Nokia models facing fierce competition from low-end Motorola, LG and Samsung Android smartphones," says Kantar analyst Dominic Sunnebo.
In addition, there's very little left of BlackBerry's prepay consumer market left to eat. The "low hanging fruit" has already been eaten. But here's a thought.
X marks the KER-CHING spot
What if Nokia's Android X range starts to sell serious numbers? Not just into the "BRICS" (Brazil, Russia, India, China and South Africa) and "TIMBIs" (Turkey, India, Mexico, Brazil and Indonesia) but into the budget prepay Western markets too?
This would require consumers to compromise the user experience (X is built for price, not performance) to save money. But that's something that many are prepared to do. And the price of the X range (€89, €99 and €109) undercuts the Lumia 630 (which starts at $159 or around €114 for prepaid) meaning the X will be hard to avoid.
With his services background, Microsoft CEO Satya Nadella shouldn't really care what is accessing his cloud. Sure, it would be nice if it was a Microsoft device, but if there's one thing worse than a Microsoft cloud accessed mostly by iOS and Android consumer devices, it's a Microsoft cloud that consumers don't want to use at all. Perhaps a viable Android is the best acquisition Microsoft could have made?
Either way, with the Moto G available free on £12.50/month contracts, a summer price war looms. ®