A team of engineers formerly from Google and Jawbone thinks it has cracked gesture recognition for electronics with a Bluetooth-equipped ring that can control cursor movements and manipulate household devices.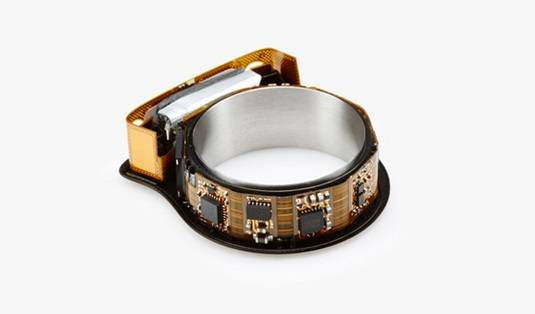 The Nod sans cover
The Nod is a somewhat bulky black ring of surgical steel with a touchpad and two buttons built into the base. It houses a nine-axis accelerometer and two Cortex M3 processors to provide the grunt. The manufacturers claim the device's Bluetooth will give it a range of 30 feet and its open development platform is compatible with Windows, OS X, iOS, Android 4.4, and Linux.
When wearing the ring, a hand gesture will move a cursor in a computer, TV, or smartphone screen. The touchpad on the base of the ring gives additional control and buttons on the base allow for clicking keys or programmable actions, and hand movements like twisting can be used to control onscreen dials or devices like the Nest smart thermostat.
Nod is also touting the ring as a security device, enabling an extra level of authentication on smartphones and computers when it is close enough to be registered. That does leave you with a rather large problem if you lose the thing, however.
The ring comes in four sizes, with inserts so that a variety of different finger sizes can be accommodated. The battery is good for a day of use before it has to go back into its charging station. Preorders on the device start on Tuesday and the firm is selling each unit for $149.
Whether or not it will get any takers is another matter. Gesture control has been around for a while now and there's little evidence that it's a killer app.
Sure, Microsoft bundles it in with the Kinect and Intel is making some moves in the area. But gesture controllers like Leap Motion have hardly set the world on fire, and Nod's ring may be consigned to the long list of "pretty but useless" gizmos that litter the tech industry. ®