Samsung has gone and used cheap-to-make triple-level cell NAND chippery to make an SSD for data centre use. Will it catch on?
Triple-level cell (TLC) flash chips mean fabs can extract more flash capacity from a silicon wafer, and so production costs are lower than for two-level cell MLC technology. Samsung says it gets "a 30 per cent increase in manufacturing efficiency compared to SSDs that use 2-bit NAND flash components."
TLC SSDs, at the process node level that Samsung is using, are said to have a raw working life of just 500 full writes; that is, phase/erase cycles. Data centres don't want products that drop dead after 18 months' use at one full drive write a day – not unless the application does so few writes that the working life is up to the five-year level.
Samsung says it's using a 10nm-class process node, meaning less than 20nm and more than 10nm for the cell size geometry. Our understanding is that it is actually 19nm. We're told by Samsung's announcement that the drive is for (cough, cough, cloud) servers and data centres, and usable for social networking, web browsing, and email workloads; read-intensive applications with a low write level.
Young-Hyun Jun, Samsung Electronics' exec veep for memory sales and marketing, was pretty keen on the device's prospects, saying: "We expect SSD market growth will gain momentum as this new SSD delivers significant improvements in data centre investment efficiency, leading to full-fledged commercialisation of SSDs in IT systems later this year."
The announcement went on to say: "Samsung expects the adoption of 3-bit [per cell] SSDs in data centres to advance rapidly in replacing the 2-bit SSD market."
That, given the slow if not glacial adoption; non-adoption really, of TLC flash by enterprises so far would be an amazing outcome.
This drive comes with 240GB, 480GB and 960GB capacity points and has a 6Gbit/s SATA interface. Its performance profile is:
90,000 random read IOPS
14,000 sustained random write IOPS, which is very low but to be expected
530MB/sec sequential read bandwidth
420MB/sec sequential write bandwidth
Write endurance is ...
Yes, that last point's intentional. Samsung is not telling anyone what the working life of the PM835T is. The random read performance and sequential read and write numbers are good; the random write performance less so, but then writing is evidently the drive's weak point.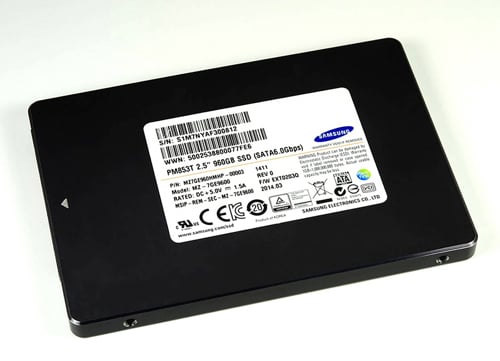 Samsung PM835T TLC SSD
SMART Storage Systems reckoned that TLC using a 1X process node (sub 20nm to 10nm and generally viewed as 19nm-17nm or so) has a 500 phase/erase cycle limit; you could fill the drive 500 times and then it would effectively be dead. Its Guardian technology could, according to SMART, lift that to 15,000 to 20,000 PE cycles or around 10 full drive writes a day for five years.
Generally there are two things to do to increase a TLC SSD's working life; over-provision to replace dead cells with unused ones, and use better bit value detection with techniques like digital signal processing. You can also work to evenly spread writes across the drive's cells. Samsung says it is using its own controller but not revealing what it has done to get an acceptable working life for its PM835T product or what that working life is.
Unless it does this, and gets a respectable working life out of the product, then any hopes for MLC replacement by TLC drives in data centres must surely be illusory.
TLC drives are appearing in the PC or client SSD area. Samsung's 840 came out in October 2012 with the follow-on 840 EVO in July 2013.
Samsung says its 840 EVO client TLC drive has a 3-year warranty in the mSATA form factor, which might indicate that the PM835T has at least a 3-year working life.
The PM835T is in mass production now. We're told "installations of the 3-bit MLC NAND SSDs, initially in large-scale data centres, are expected to begin later this quarter".
Does that mean that Samsung already has customers for the drive, customers in the Facebook, Yahoo, Google class? We think it does.
No pricing information was revealed other than an indication that consumer-grade SSD pricing would be used as a guideline. ®
Similar topics