It's here, the 4TB FLASH drive: SanDisk rips sheet from the Optimus MAX
Solid state delirium
SanDisk has announced a new 4TB flash drive, double the capacity of the biggest solid-state drive available today.
The 4TB Optimus MAX – which sounds like the big bad brother of an Optimus Prime toy – follows the 2TB Optimus Eco, a technology SanDisk acquired when it bought SMART Storage.
The new SSD can take three full drive writes a day for five years. It has a SAS interface and its basic performance numbers are as follows (with previous Eco numbers in brackets for comparison):
75,000 random read IOPS (Optimus Eco: 100,000)
15,000 random write IOPS (Optimus Eco: 45,000)
400MB/sec sequential read and write (Optimus Eco: 500MB/sec)
Why is the MAX slower than the Eco? SanDisk says the Eco uses 19nm MLC flash while the MAX is made from 19nm eMLC, a better grade of flash but not one that we usually think of as slower – the MAX random write speed being a third of the Eco's.
The rest of the Optimus line
The Optimus family has new and refreshed members, all using 19nm eMLC NAND, and a quick look at the full-disk writes per day (FDWD) numbers will help to position them:
Write-intensive Optimus Extreme: 45 FDWD for 5 years
(Less) write-intensive Optimus Ultra: 25 FDWD for 5 years
Mixed-use Optimus Ascend: 10 FDWD for 5 years
Mixed-use and read-intensive - Optimus Eco: 1 to 3 FDWD for 5 years
The performance numbers are:
Optimus Extreme: 95,000/40,000 random read/write IOPS, 500/500 MB/sec sequential read/write
Optimus Ultra: 95,000/40,000 random read/write IOPS, 500/500 MB/sec sequential read/write
Optimus Ascend: 95,000/40,000 random read/write IOPS, 500/500 MB/sec sequential read/write
Optimus Eco: 90,000/35,000 random read/write IOPS, 500/500 MB/sec sequential read/write
The new Optimus Eco is slower than the older Eco; possibly due to some kind of market segment optimisation.
We have a naming problem as Extreme, MAX and Ultra all pretty much mean top-of-the-range, but no matter. There's also a fair amount of apparent overlap with SanDisk's pre-SMART acquisition Lightning brand SSDs, as we shall see.
The above are all 6Gbit/s SAS interface SSDs whereas the new Lightning gear all use a 12Gbit/s SAS interface. These Optimus devices feature full data path protection, T10-DIF support, and backup power circuitry.
SanDisk reckons SSD capacities will outpace 2.5-inch hard disk capacities. It has a timeline-free chart showing 0.9TB 2.5" disks being contemporaneous with its 4TB Optimus MAX. When 1.2TB HDDS are available, its SSDs will have reached 8TB capacity and be at 16TB when HDD reach 1.6TB, we're told.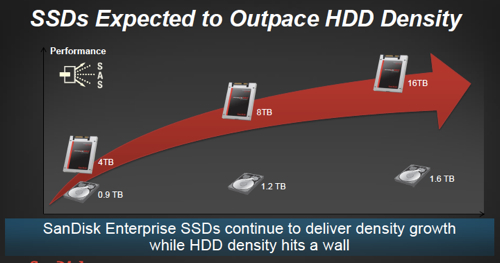 This takes a poor view of 2.5-inch HDD developments and its fab foundry partner Toshiba, which makes HDDs, could set it right. It has more than one 1TB drive. Seagate has a 2TB SpinPoint available now, and coming HAMR technology should take that to 4TB, 8TB and possibly beyond. HGST has a 1.5TB TravelStar drive available now and its Helium-filled enclosure technology, as well as HAMR, should enable it to match and maybe beat Seagate's 2.5-inch drive capacity roadmap.
SanDisk might just be comparing SSDs with performance 15,000RPM 2.5-inch disk drives, which have lower capacities but its chart doesn't say so. Our view is that SanDisk may be right in its assertion of SSD capacity outstripping 2.5-inch disk capacity, thanks to the capacity jump coming from 3D NAND, but it will take a while longer than the slide implies
Lightning strikes twice
Also announced today: SanDisk's second-generation Lightning data centre SSDs, which move from 34nm flash to 19nm and from a 6Gbit/s SAS interface to a 12-gig one. The fastest, the Lightning Ultra with its fast SLC flash, can do 25 FDWD for five years, which is probably some kind of record:
Write-intensive - Lightning Ultra SLC: 25 FDWD for 5 years
Mixed read/write use - Lightning Ascend eMLC: 10 FDWD for 5 years
Read-intensive - Lightning Eco MLC: 3 FDWD for 5 years
We wouldn't be surprised if the Lightning and Optimus lines merged, although SanDisk may see utility in having separately branded 6-gig and 12-gig SAS products.
These Lightnings can fly:
Lightning Ultra: 190,000/100,000 random read/write IOPS, 1,000/600 MB/sec sequential read/write
Lightning Ascend: 190,000/80,000 random read/write IOPS, 1,000/600 MB/sec sequential read/write
Lightning Eco: 180,000/35,000 random read/write IOPS, 1,000/500 MB/sec sequential read/write
SanDisk believes, and quotes Gartner to support its view, that by the end of 2015 storage and server SSDs will cost less than $1/GB because of 1Z (15nm) NAND cost-efficiencies. This will put them in the same cost ball-park as business-critical and mission-critical disk drives by 2017. By then SanDisk will be using its 3D NAND-like BICS technology and providing a jump in capacity and hence a lower $/GB number
We don't have pricing or availability information for these new Optimus and Lightning SSDs yet. ®