This article is more than 1 year old
Facebook UNVEILS VEIL for 'anonymous' logins
New, granular permissions give users line-item veto
If you've ever been hesitant to login to an app or website using your Facebook ID because you don't know what consequences clicking that blue button will actually have, Mark Zuckerberg says he feels your pain.
Speaking at the Facebook F8 developer conference in San Francisco on Wednesday – the first such event the social network has held since 2011 – Zuckerberg said the company will soon deliver updates to its login code that offer more privacy controls to users.
The first change, he said, will be more granular control over app permissions.
In the past, an app displayed a laundry list of data it wanted to access and actions it wanted to perform, and users were asked to say yea or nay to all of it at once.
With the new Facebook login API, users will be given line-by-line control over permissions – so they will be able to allow an app to see who their Facebook friends are, for example, but refuse to let it send messages or post anything to their timelines.
Facebook also plans to offer an anonymous login feature, which Zuckerberg described as "a hassle-free way to login and try apps."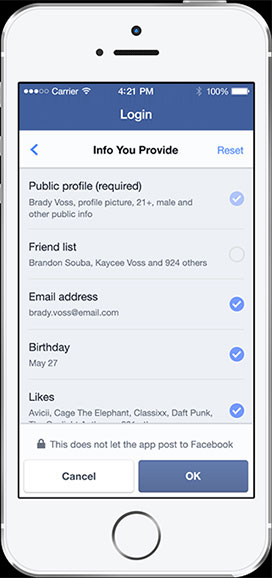 With Facebook's new login permissions,
users have control over what they share
The feature will offer users the convenience of a username-and-password-free Facebook login even when they're not ready to share any personal information with the app in question. If they later decide they want to share their names, friend lists, or other data, they will be able to do so.
Session data will even persist from one anonymous login to the next. "You'll be able to have an experience that's synced without the app even knowing who you are for the first time," Zuckerberg said.
The soon-to-be-30-year-old CEO also said that developers can expect Facebook to stand behind its new code and that the social network's APIs will be more stable in the future.
Going forward, Zuckerberg said, all Facebook APIs will have version numbers, and developers will be able to code against the version they want. The company will commit to supporting each version of the APIs for two years, and Zuckerberg said any major bugs will be fixed within 48 hours.
The more granular permission controls and anonymous login are both currently being tested with Facebook developers, and both are expected to roll out to the public over the next few months.
In addition, Zuckerberg said that although F8 conference scheduling has been spotty in the past, developers can expect the company to hold an event around this time every year from now on. The next F8 conference will be held in 2015 in San Francisco's Fort Mason. ®