Inventors: Feast your eyes on fuel cell tech that'll power up Internet of Thingies
Developer kits at the ready, just add water
---
Just add water. Or just the hydrogen
On the stand, the firm's MD, Dr Ben Todd, remarked that the safety training and logistics of getting hydrogen bottles delivered to individuals made the Hydrofill a much more practical option. However, he said, with the schools' science workshop Arcola undertakes, 5ml syringes are filled with hydrogen and used to power a Lego car. This inspiring hands-on renewable energy education session takes about 45 minutes.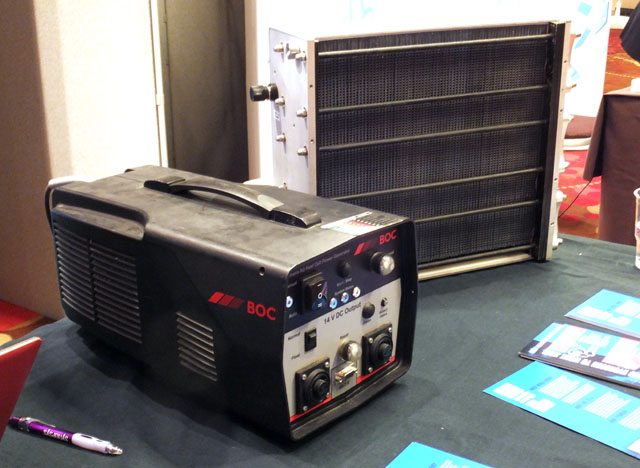 Just add hydrogen: BOC Hymera H2 fuel cell generator – a 3kW fuel cell in the background
Arcola's work extends to universities, which it provides with safe working designs so efficiency experiments can be conducted. "They're not engineers, they're students," says Todd.
Besides green credentials, efficiency is a factor for industrial purposes. Diesel generators don't like working below a full load, and Todd says that if your needs are 500W or less, then fuel cells are competitive.
He outlined a typical scenario where a crate of hydrogen bottles would be installed on a palette alongside a secured fuel cell that would power security cameras or monitoring equipment along with GPS in a remote location and could be left running for 3 months and perhaps longer with a hybrid configuration with the addition of a battery with solar panel. Not only is it quieter and cleaner, Todd reckons it is cheaper too.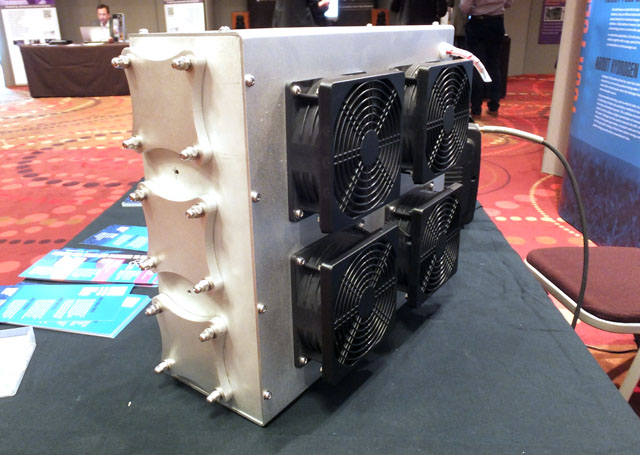 3kW fuel cell for light transportation use – Arcola Energy makes modifications to suit different applications
As for developers, the choice of boards looks like it will be broadening - Todd mentioned that he was approached by Intel at the Future World Symposium. From the discussion it seems likely that Arcola will be adding Intel's Galileo board to its list of developer kits and will be rolling out a more sophisticated educational programme to match its capabilities.
Arcola Energy has also been in talks regarding government funding too and although Todd was unwilling to confirm anything until the ink was dry, he was certainly very cheerful. Where an injection of cash will take the company remains to be seen, but for now though, developers can find Arcola's software for the fuel cell inventor kit on Github. ®