Voters pick luminous tech spacesuit as NASA's off-world fashion statement
Does my cooling unit look big in this?
NASA has announced the winning design to its new line of spacesuits after a public vote on competing style tips.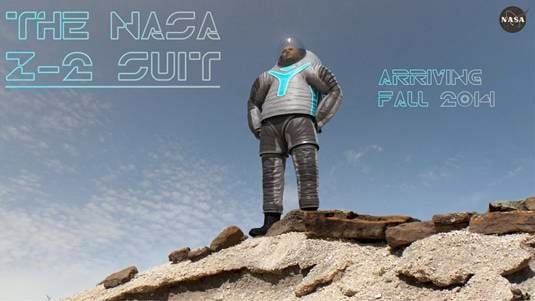 "Why's that little green man laughing at me?"
The spacesuit is the second of NASA's Z-Series designs that will one day replace the more traditional suits used in space today. NASA wanted a design that would be optimized for manned missions to other bodies in the Solar System, rather than for in-flight wear.
"With the agency laser focused on a path to Mars, work to develop the technologies astronauts one day will use to live and work on Mars has already begun," NASA said. "Each iteration of the Z-series will advance new technologies that one day will be used in a suit worn by the first humans to step foot on the Red Planet."
The winning design, dubbed "Technology," has a clear helmet that affords 360 degrees of viewing and a rigid torso to protect the suit's systems and its fleshy inhabitant, with woven flexible joints and redesigned boots for trekking over the lunar or Martian regolith.
Luminous patches and electroluminescent wiring on the outside of the suit will be used to identify which astronaut is which, replacing the current system of bands of color on astronauts' arms.
The winning design garnered 147,354 votes, around 63 per cent of the total vote. The other two designs – "Biomimicry" and "Trends in Society" – got 53,057 and 33,020 votes, respectively.
The suit will now be sent down to NASA's Johnson Space Center in Houston for testing, including dumping it in a vacuum chamber to check for leaks, immersing it in the huge swimming pool that makes up the agency's Neutral Buoyancy Lab, and trying it out in a simulated rocky Martian environment – but by the 2030s, NASA wants astronauts to use the suit to explore the Red Planet in person. ®