ARM tests: Intel flops on Android compatibility, Windows power
Cambridge lab rat's verdict: 'We're still beating 'em'
---
Watt What about power hunger 'in Intel's back yard?'
But Watt didn't stop at dissing binary translation. He also wanted to compare ARM versus Intel compute-core efficiency, so he loaded his test bench with a Asus Transformer Book T100 powered by a 22nm quad-core Intel Bay Trail Atom Z3740 running at 1.86GHz, and a Nokia Lumia tablet – presumably a 2520 – with a quad-core 28nm Qualcomm Snapdragon 800 with Krait 400 compute cores.
Through a nifty bit of hardware hackery, Watt said, he was able to isolate the power going to both SoCs, and measure their consumption. He chose to test the entire SoC, he said, because power claims for just the CPU, just the GPU, or just the video engine can be misleading, seeing as how it's the entire SoC that needs to be taken into consideration. What's more, different vendors may configure and identify, for example, power-hungry caches for CPU and GPU, which can distort results.
The T100 was running Windows 8.1, and the Lumia Windows RT. "We're very much in Intel's back yard here," Watt said. "We're running Windows, which Intel obviously has a long history of running and making it very efficient." Despite that advantage, the 22nm Bay Trail drew noticeably more power than did the 28nm Snapdragon, even though the smaller process should have improved the Intel part's power consumption.
Watt first checked the power draw when running the Kraken, SunSpider, and Octane Javascript benchmarks, each in Internet Explorer. The Qualcomm Snapdragon consistently beat the x86 Intel Bay Trail Atom, with power draw averaging about 30 per cent lower.
"The performance is not as high as we're seeing in the Intel device," Watt admitted, "but again the tests are running under a Windows environment, but you can see in terms of efficiency, we're getting much lower power."
Benchmarks are all well and good, he said, but what a user really wants to know is what battery life will be when running real-world applications on an ARM-based tablet versus an Intel-based tablet.
To find out, Watt ran five different tests: opening the fitbit.com home page for 10 minutes, playing YouTube video, fiddling with Google Maps – a test he admitted was the least precisely repeatable of the five – and playing an introductory movie in Halo and a test movie from Big Buck Bunny.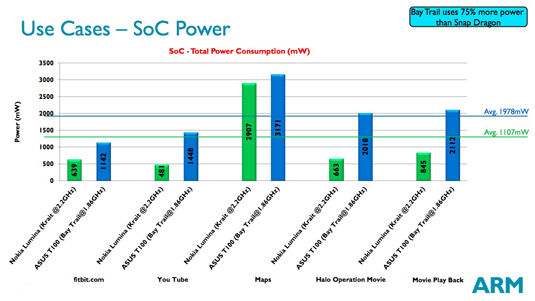 Even at a smaller chip-baking process, and even when running Windows, Intel (Bay) trails (click to enlarge)
Again the Snapdragon drew less power than the Atom – sometimes a lot, sometimes less so. When The Reg asked Watt what other apps he tested and didn't report on, he swore that those five were the only ones he tested, and that they were picked "at random" and were each run "five or 10 times" to get an average score.
Bottom line number one, Watt said, is that Android apps written using ARM's 32-bit ARMv7 architecture and converted to run on x86 Android on Intel hardware using binary translation suffer from poor performance and long load times, and cause poor battery life.
Bottom line number two is that despite Intel's mobile-processor advances, ARM-based SoC's still draw considerably less power than Intel chips, even when taking into account Intel's long history with Windows optimization and the fact that the Atom he tested was baked in a 22nm process and the Snapdragon in a less power-efficient 28nm process.
Or, as ARM's Watt put it more succinctly, "We're still beating 'em." ®