Scientists at Germany's GSI Helmholtz Centre for Heavy Ion Research have successfully recreated a new type of element, paving the way for its admission into the periodic table.
"This is an important scientific result and a compelling example of international cooperation in science, advancing superheavy element research by leveraging the special capabilities of national laboratories in Germany and the US," said Oak Ridge National Laboratory director Thom Mason in a statement.
Element 117 isn't naturally occurring, but was first created in 2010 by a combined team of US and Russian boffins. Those of you who want to try it at home can replicate the process – if you happen to have a few billion dollars-worth of equipment and some highly restricted ingredients on hand.
First synthesize a smallish amount of highly radioactive berkelium (Bk-249) by bombarding a quantity of the isotope curium-244 with alpha particles using a high-flux nuclear reactor. It took the team in Germany around 18 months to make 13 milligrams of the stuff, so book some holiday.
Next, rush your berkelium to a powerful linear accelerator. Berkelium has a half-life of 330 days and after that time 50 per cent of your sample will have decayed into californium-249. Since there's usually a waiting list for the equipment schedule in advance, because you're going to need all the time you can get.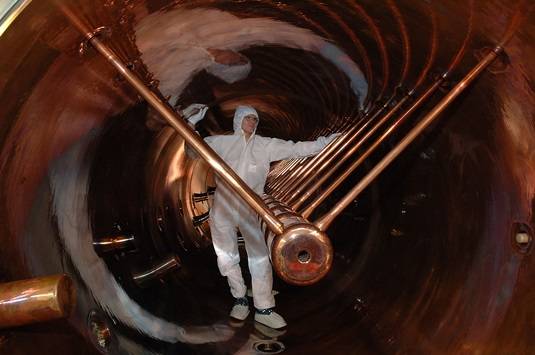 "I've got a bit of a rush job..."
Once you're in the accelerator bombard the berkelium with high-velocity calcium ion beams. Very occasionally a calcium ion will fuse with the berkelium to create element 117 – in the original 2010 experiment, a 150-day bombardment generated six atoms of the new element.
Before you start, however, make sure your elemental detector is switched on and recording, since element 117 has a half-life measured in milliseconds and decays into elements 115 and 113, before fissioning into two lighter structures.
Given the amount of work (and the small element of personal risk) involved in such a process, you might wonder what the point of all this is. The new element, provisionally named ununseptium, has pretty much no practical use as a substance, but it and other super-heavy elements are important to nuclear physicists because they can teach us about new ways that atoms can be constructed and potentially made to decay more slowly.
"The successful experiments on element 117 are an important step on the path to the production and detection of elements situated on the 'island of stability' of superheavy elements," said Prof. Horst Stöcker, scientific director at the GSI.
There are some – particularly clueless politicians – who decry such research as pie-in-the-sky thinking that's a waste of both time and money. But 100 years ago it was just this kind of pure research into atomic structures that were thought a closed book at the time which led to the creation of electronics, nuclear power, and the tunnel magnetoresistance used in your computer's hard drive.
The next stage before element 117 is added to school textbooks is an examination of the data from the two experiments by the International Unions of Pure and Applied Physics and Chemistry. If its members decide the data is valid without further experimentation then the discoverers will get a chance to think up a new name for the substance.
El Reg would suggest that Vulturanium has a nice ring to it. ®