This article is more than 1 year old
Look what's screeching into the Internet of Stuff: Self-driving cars
Microcontroller lords Freescale rev customisable motors
Pics Semiconductor maker Freescale is a notable player in embedded processing for the automotive industry, among other things, so it was perhaps no great surprise to find various car components on its stand at the Future World Symposium this week in London.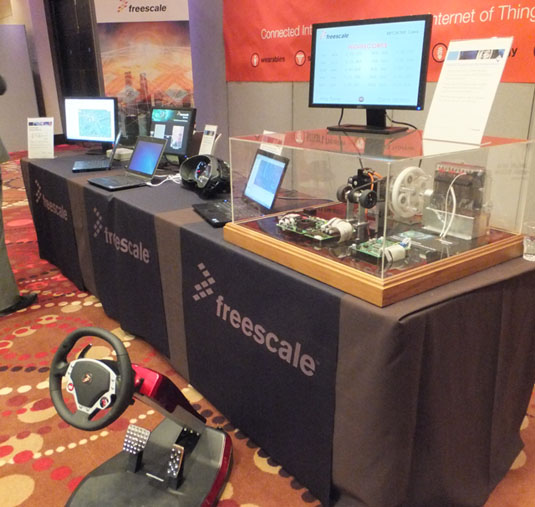 Freescale's hybrid game at play
By coupling its powertrain monitoring electronics to some racing game peripherals and a dashboard, it has come up with its own Drive the Hybrid challenge. The aim is to deliver the fastest lap with the kit, but without running out of energy from the hybrid engine.
Behind it all is the Freescale eTPU (Enhanced Time Processor Unit) controller, which controls the PMSM (Permanent Magnet Synchronous Motor) electric traction motor and the internal combustion engine. The game is all about judging when to use the slow but steady electric motor and the fast and thirsty combustion engine.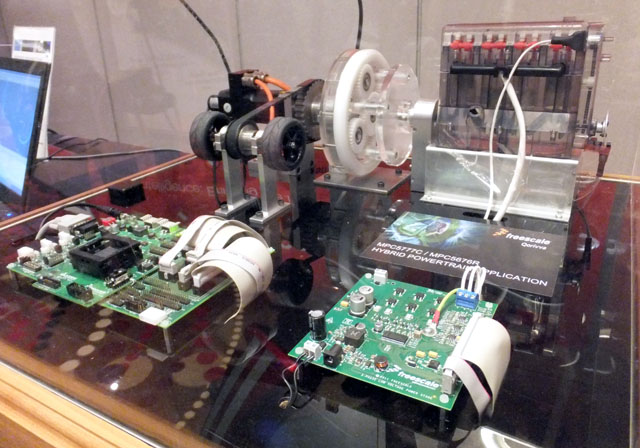 Hybrid powertrain demo set-up
This level judgement to get the best performance and efficiency highlights the work done by Freescale's Qorriva automotive microcontrollers: the demo at the symposium showed off the MPC5777C and MPC5676R chips utilised in powertrain applications and their role in ADAS (Advanced Driver Assistance Systems). Ultimately, the silicon will make those power and efficiency judgements, so you don't have to.
On the stand, Freecale apps manager Graham Troy suggested other implications for engine management where car owners could switch ECU (Engine Control Unit) profiles and pay a few quid extra for a download to have their sedentary saloon souped up to a sportster for the weekend. Other profiles could be applied for when the kids start driving to keep temptation at bay, and avoid high insurance premiums, or you could just plump for the one with the best fuel economy when payday seems too far away.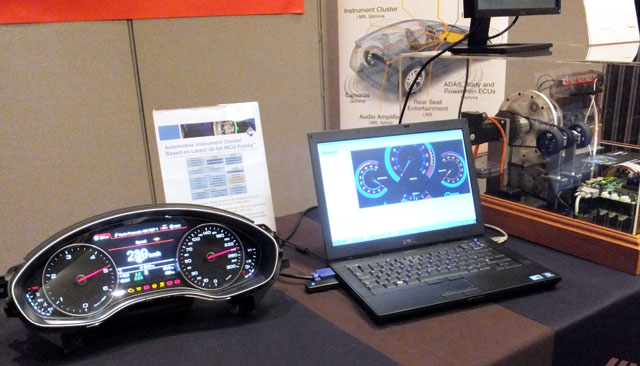 What shall I drive today? Downloading engine profiles could be as simple as a spoken request to you IoT car
Looking ahead, Freescale has its own roadmap for the automotive industry with autonomous vehicles as its destination. While we may be inclined to think of the Internet of Things to be focused on tiny sensors for environmental use, logistics tracking, security and wearables, Freescale makes the case for cars as the one of the biggest "things", in every respect, in the IoT bag. We'll be looking at this in more detail shortly, so watch this parking space. ®