This article is more than 1 year old
AMD beds ARM in 'Project SkyBridge' and home-grown 'K12' ARM architecture chips
Pin-compatible x86 and ARM SoCs can share same motherboard
AMD has announced that it will create pin-compatible 64-bit x86 and ARM SoCs in an effort it's calling "Project SkyBridge", and that it has licensed the ARMv8 architecture and will design its own home-grown ARM-based processors.
"AMD is the only company that can bridge ARM and the x86 ecosystems," said AMD's SVP and GM of global business units Lisa Su at the announcement event in San Francisco on Monday.
"We said we were going to be ambidextrous," said AMD CEO Rory Read, also at the event. "We were going to do something that no one else on the planet could do."
Pin compatibility, Su said, will bring "tremendous flexibility to the market," seeing as how an OEM can design and build a single motherboard that can be fitted with either an x86 or ARM SoC.
"It really is a design framework," she said. "It's a family of products that we'll be putting out starting first in 20-nanometer technology." The first products in that family, planned for next year, will be what AMD has dubbed APUs – accelerated processing units – and will include AMD's Graphics Core Next (GCN) GPU tech. Both the ARM and x86 parts will be built around a heterogeneous system architecture HSA).
AMD currently supports HSA in its "Kaveri" desktop and notebook chip, and its "Berlin" Opteron server chip, demoed at the Red Hat Summit last month.
On the x86 side of the Project SkyBridge ambidexterity, the APUs will be based on a next-generation "Puma+" compute cores, an update to the "Puma" cores announced last week in the rollout of the low-power, low-cost "Beema" and "Mullins" SoCs.
On the ARM side, Su said, "We're going to optimize 64-bit [ARM Cortex] A57, again in the same footprint as we have our x86 capability." These low-power ARM-based APUs will also be AMD's first HSA-capable chips that support Android.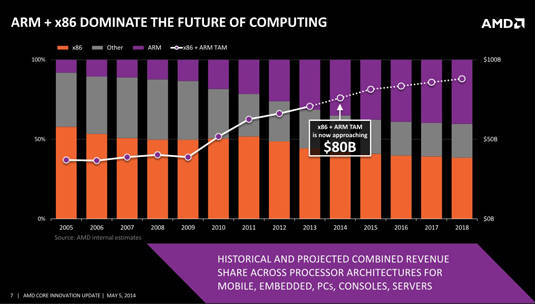 With market dynamics like this, AMD's cuddling up with ARM makes perfect sense (click to enlarge)
The first Project SkyBridge APUs will be targeted at the embedded and client markets. "It's an opportunity for us to help customers innovate, differentiate, and also reduce their time to market," Su said.
For some markets – she used networking as an example – Project SkyBridge will allow customers to simplify their code base from one that now also includes MIPS and PowerPC devices, to just x86 and ARM running on a single motherboard design. "It's just way too expensive to support all of those disparate architectures across a single ecosystem or several ecosystems," Su said.
After the first Project SkyBridge products appear in 2015, the following year will see AMD moving beyond such ARM-designed and licensed compute cores as the ARM Cortex-A57, to create its own ARM-chip designs.
"The very, very key piece of differentiation for us," Su said, "is really around developing our own ARM cores. So today we are also announcing that we are an ARM architectural licensee, and we are well on our way with developing our own ARM cores," the first one being code-named "K12". AMD ARM chips, Su said, will find their way into everything from embedded to servers, and will be "a huge addition to our semi-custom portfolio."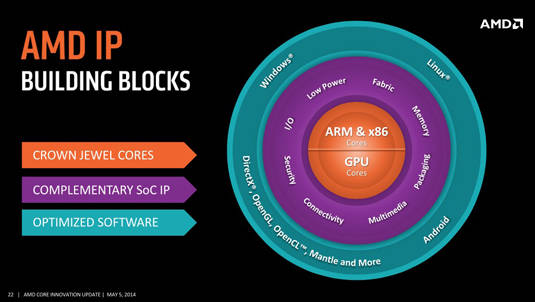 AMD has a lot of IP building blocks with which to, well, build stuff (click to enlarge)
As AMD CTO Mark Papermaster, also at the event, explained, the effort involved in both Project SkyBridge and K12 is aided by AMD's ability to mix and match its IP in CPU, GPU, APU, fabric, and other areas. The company's product-development cycle, he said, has been "re-engineered from top to bottom," and will eventually result in a "from-scratch, ground-up, optimized design of the ARM-64 architecture marrying all of that deep expertise we have at AMD."
It's all about simplification, reusability, and flexibility, Papermaster said, giving as an example on-chip fabric. "It doesn't care if you're x86 or ARM," he said. "An ambidextrous network-on-chip will put all these pieces together – our IP, IP of our partners, IP of a third party."
Amid all of this talk about ARM, Papermaster took a moment to reassure Intel ISA devotees. "Of course we're not backing off x86," he said. "That's the beauty of this ambidextrous approach." ®
Bootnote
With all the talk about future directions and products, almost lost in the middle of the event was a demo of a server based on AMD's 64-bit ARM Cortex-A57–based "Seattle" server processor – now dubbed the AMD Opteron A110 Series – that is now being sampled to customers, and is scheduled to appear later this year.
The Seattle-based server was demoed powering a full LAMP stack, running Red Hat Linux, Apache web server, MySQL, PHP, WordPress, and – this being an event for press and analysts – the obligatory self-congratulatory video.
The demo gods were smiling – everything ran perfectly.