This article is more than 1 year old
Norwegians trial Oculus Rift in tanks: The ultimate battlefield simulator
High tech comes cheap when compared to military prices
Gamers might be excited about using Oculus Rift virtual reality goggles for simulated combat, but the Norwegian army is trying it out for real as a way to maneuver its tanks without exposing the crew.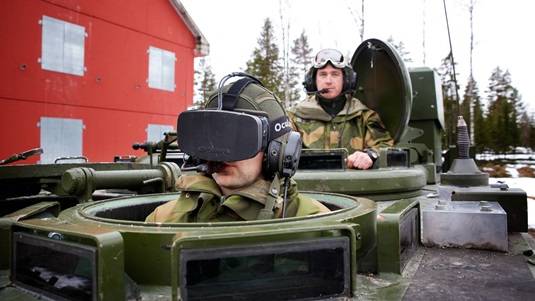 'Hold on, just checking Facebook.'
The system uses four cameras on the sides of an armored vehicle, each giving a 185-degree view. These feed data back to a computer in the vehicle, and allow the Oculus-wearing driver to see where they are going.
"Those who play 'Battlefield' do indeed have a better view than in an actual vehicle. However, with our software you can add the information and views you are used to from games: an overview map, spatial (geographical) orientation, tilt and speed," Daniel Mestervik, development manager at Norwegian firm Making View, which built the Oculus system, told local TV station tu.no.
Almost all armored vehicles have viewing prisms to allow the vehicle to move when locked down for combat, but they give only a limited outlook on the world outside. The VR system developed for the Norwegian army, however, gives a near-360 degree view – but it's not without its drawbacks.
"We see that the glasses don't yet have the necessary screen resolution to see well at a distance, and they may cause some dizziness for the driver. But this, we believe, will be improved quickly," said Major Ola Petter Odden of the Norwegian army's combat laboratory.
One major advantage of the Oculus tank system is price, he said. The developers used off-the-shelf parts, and charge a fraction of the price of traditional military hardware vendors.
The cameras on the vehicle cost about $2,000, Odden said, whereas military cameras would set the army back $100,000. The computer used to power the goggles is a normal PC, and the Oculus headset should be about $350, compared to the $35,000 that military suppliers currently charge for headsets.
Odden said that Facebook's takeover of Oculus means that the virtual reality system will get the funding it needs to develop, and so the army decided to try out the virty goggles. Based on the testing, and once Oculus has a commercial product available, Odden said he was optimistic that the system would be deployed on an operational basis. ®