Sometime in the first weeks of 2015, someone will become the three-billionth person to connect to the internet.
So says the International Telecommunications Union (ITU), which on Monday emitted a new batch of statistics about how humanity connects.
Person three-billion will probably be in what the ITU calls, but does not offer a definition for, a "developing" country and will probably use a mobile broadband service. That's because ITU says the developing world is now adding internet users at a faster rate than more economically-advanced nations and also because mobile broadband growth is out-stripping fixed line services in the developing world.
Mobile broadband remains a huge growth market, with subscriptions set to reach 2.3 billion by the end of 2014, five times more than in 2008. The Asia-Pacific region alone will account for a billion mobile broadband subs by year's end, but even with that colossal count the region will still only have around 23 per cent of its population online.
Which is not to say developing nations are laggards: the ITU says "In 2013, the number of fixed-broadband subscriptions in developing countries overtook the number in developed countries," while "In developing countries, the number of Internet users will have doubled in 5 years, from 974 million in 2009 to 1.9 billion in 2014." That growth outstrips adoption in wealthier nations handily, and there are more users waiting to be connected in developing nations too: the statistics suggest internet connection rates are "78% in developed countries and 32% in developing countries," and that of the four billion people yet to come online "more than 90% … are from the developing world."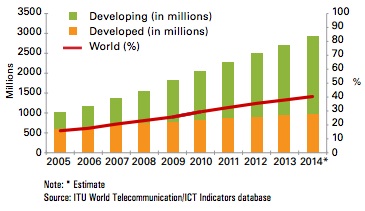 Where the connected people are
The data is yet another explanation, if one were needed, of just why the world's biggest technology companies are so keen on connecting "the next billion" with cheap mobile phones (Microsoft) or run-on-anything versions of their web services (Facebook) or bandwidth-beaming-balloons (Google). Connecting another billion people will, after all, grow the potential market for online services by a third, an opportunity any industry would welcome.
The ITU also offers a broadband speed league table in which the UK does well, but misses Reg-reading nations like Australia and India so can't be considered a great guide to broadband around the world. UK readers may be pleased to see their isles winning seventh place in the incomplete table, ahead of the USA but behind France and runaway leader South Korea. Click here to see a bigger version of the broadband speed league table.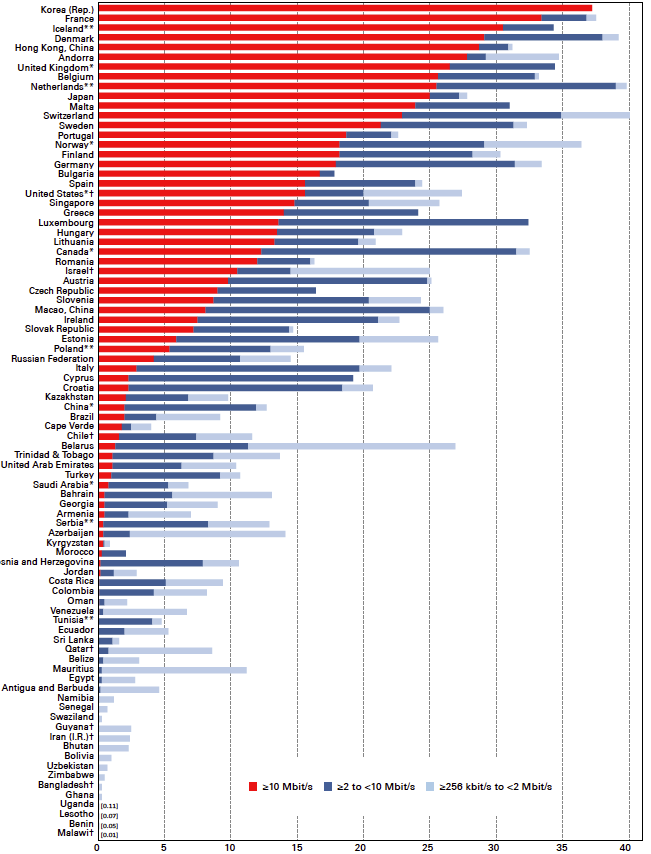 The ITU's new broadband speed league table. Click here for a bigger version.
The ITU's data can be found here. ®
Similar topics
Broader topics