The last person that you'd expect to tell you that eight-core smartphone SoCs are overkill would be a man whose company licenses and gets royalties from those cores – but that's exactly what ARM's director of mobile solutions James Bruce told attendees at last week's ARM Tech Day.
"Trying to utilize eight cores on a smartphone is incredibly hard with true use cases rather than benchmarks," said Bruce. "I think the thing to keep in mind is, yes, there's a major chunk of, shall we say, 'marketecture' happening here, combined with the love of the number eight."
That love of the number eight, of course, is a big deal in China, where eight is considered an auspicious integer.
"We do have the lucky number of cores," said Bruce.
The configuration to which he was referring is ARM's big.LITTLE arrangement, in which four beefy cores can be paired with four lower-powered cores, with the big boys handling the process-intensive chores and the li'l fellows taking care of less-taxing tasks – the pairing of four ARM Cortex-A15 and four Cortex-A7 cores in the Exynos 5 Octa that powers some versions of Samsung's Galaxy S4, S5, and Note 3, for example.
When running a smartphone test routine that combines web browsing with simultaneous MP3 playing, Bruce said, "What you actually see is that the 'big' cores are being lit up not all that often; most of the work is being done on the 'LITTLE' cores."
Overall, he said, about 75 per cent of the time, all of the cores are either asleep or simply waiting for an interrupt, and about 20 per cent of the time only one core is active.
"If you move to a six-core configuration – or two 'big' cores plus four 'LITTLE' – you actually deliver the same user experience, the same results," he said, "and you've just saved an area by not having to put down the extra two large cores."
Saving die area saves costs, especially when moving into more advanced processes such as the upcoming 16-nanometer FinFET, when cost-per-gate starts to rise. "Certainly from the SoC partner's perspective, every millimeter of silicon costs," he said, adding that "anything that you can do to reduce the number of gates and the amount of stuff on your SoC is worthwhile doing."
In smartphones, Bruce said, there are very few use cases in which software requires four threads to run on the four large cores in a big.LITTLE configuration. "For most smartphone workloads," he said, "a six-core configuration matches extremely well for it."
Currently, the only mobile SoC with such a two-big, four-LITTLE configuration, Bruce said, is in Samsung's Galaxy Note 3 Neo, which is based on a dual-core 1.7GHz Cortex A15 and a quad-core 1.3GHz Cortex-A7.
But although six cores may be the sweet spot for smartphones, he said, some of ARM's partners are creating SoCs that are used in both smartphones and tablets, and that "there's more of a multitasking aspect in a tablet design compared to a smartphone design," and so there's more for each of those heftier Cortex-A15s to do.
An increasing number of those partners are creating SoCs for tablets in the eight-loving Middle Kingdom – a rapidly increasing number, to be precise. "What we saw in 2013 was about 250 million tablets being shipped at various price points," Bruce said. "What was really interesting was that of that 250 million, 100 million of those were actually using SoCs designed by Chinese SoC partners."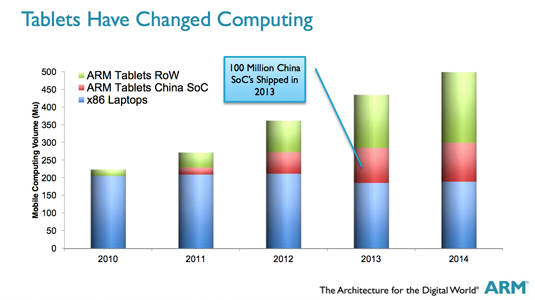 Sales of ARM-based tablets with SoCs made in China are exploding; x86 laptops, not so much
Tablets are not only changing the computing landscape, he said, but they're also changing the Asian supply chain. "If you looked, let's say two or three years ago, it was pretty much made in China for China," he said – but that's changing as relative newcomers such as the Chinese firms Allwinner, Rockchip, and Amlogic grab an increasing chunk of the global market for SoCs.
But will China's love of eight cause eight-core chips to spread around the world as Chinese firms increase their shipments, or will those SoC-spreaders take advantage of the cost benefits of the six-core sweet spot?
"It's a question of customer perception," Bruce said. "Is it better to have an eight-core versus a six-core once you're outside China? I don't know the answer to that." ®