This article is more than 1 year old
Alien invader plunges tool into virgin 'Windjana', sniffs powders
NASA boffins wide-eyed as nuke tank drills into sandstone
Curiosity, NASA's nuclear-powered truck on Mars, has drilled into the planet's surface for the third time, taking a chunk out of a sandstone slab dubbed Windjana.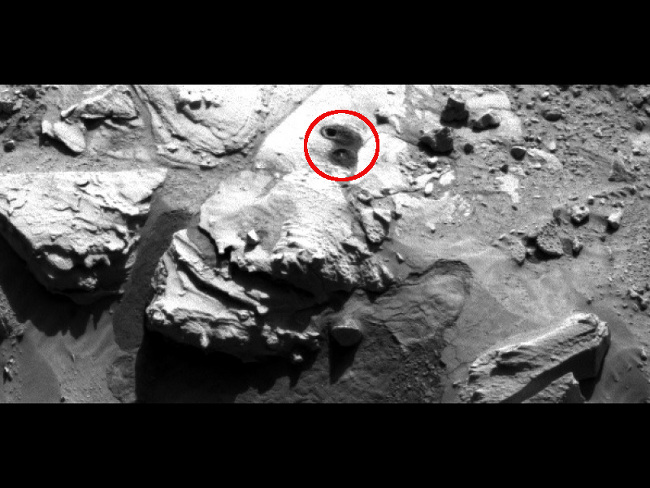 Hole in, done ... where Curiosity drilled into the Martian ground (Credit: NASA)
The dust-world 'droid sank its drill into the chosen site on Monday, taking a powdered sample of the rock for its onboard science lab to study. The teeny hole in the target, just 1.6cm in diameter and 6.5cm deep, was confirmed in photographs snapped by the rover and beamed back to Earth.
The fresh drilling is just alongside the shallower test hole Curiosity made last week, which gave researchers an idea of what may be inside Windjana from the tailings around the modest excavation.
"The drill tailings from this rock are darker-toned and less red than we saw at the two previous drill sites," said Jim Bell of Arizona State University, deputy principal investigator for Curiosity's Mast Camera (aka Mastcam).
"This suggests that the detailed chemical and mineral analysis that will be coming from Curiosity's other instruments could reveal different materials than we've seen before. We can't wait to find out!"
Two of the rover's previous planetary penetrations were in mudstone in the Yellowknife Bay area, and both gave boffins evidence of an ancient lakebed and a chemical energy source that may have helped to support microbial life. With the sandstone probing, the scientists hope to see which wet materials pulled sand-sized grains together and cemented them into rock.
Windjana is located at a waypoint known as The Kimberley, about 4km southwest of Yellowknife Bay and along the route toward the mission's ultimate destination on the lower slopes of Mount Sharp.
The sample from the sandstone will be sieved and checked before being delivered for analysis to CheMin and SAM - the Chemistry and Mineralogy and Sample Analysis at Mars instruments. The Martian lab may even take this sample to go, analysing the powder as the rover continues its drive towards Mount Sharp. ®