This article is more than 1 year old
Freescale: Cloudy dumb sensors? Nope, not OUR smart Internet of Things
Vehicle-to-X is next big digital gold rush – plus security and privacy, of course
Security risks
There are other considerations which Wainwright laid out in his summary of Connected Intelligence entry requirements. Top of his list of four areas is Secure Data. He compared IoT security to the standard of UK restaurants, namely, rather hit and miss if you don't know where to look.
"We have got some applications that are super-secure and very well engineered," Wainwright said. "However, the average level of security in IoT applications leaves a lot to be desired. I don't think there's anybody who wants to have a system and doesn't really care about how secure their data is."
Caring is one thing but awareness is another, and looking ahead he stressed security concerns with device manufacturers that make edge network products.
"Their ability to understand what happens to their data when it leaves them and goes via a network somewhere else is very questionable. What happens to your data downstream is an enormous topic to be understood. Think where all this data is coming from, where you're sending it to and the potential for something to go wrong with that data. Privacy and security will be absolutely key issues."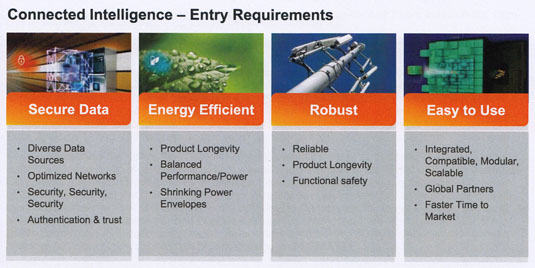 Connected Intelligence: entry requirements for the clever kit club
Parts for parts sake
Energy efficiency and robustness are the next two entry requirements, which are fairly self explanatory.
"I'm glad I've got automotive customers who really care about quality because these guys really drive you places you wouldn't necessarily want to go yourself," Wainwright said.
"But in this market, if you think about some of the applications which are instal and forget that depend on a battery life for many years, that sort of zero PPM [number of defective parts per million] mentality is pretty important. It's always a little demoralising when you actually manage to get very close to zero PPM and then your customer changes it to PPB [parts per billion], but it happens, you know."
The final item on the list of entry requirements for Connected Intelligence is ease of use. It's perhaps surprising at this level, but Wainwright sees this as being vitally important to aid wider adoption as there are new customers out there as well as those that are adapting to the IoT side of existing sensor applications.
"If you think about the out-of-the-box experience that semiconductor suppliers have given with their processors, it's dramatically changing. As we got in to much more complex graphics offerings, the expectation that people have that they could take our products and get them up and running quickly, was of a completely different order. The level of complexity that brought to us was really quite something.
"Although some are applications that we have understood for some time, they're now changing rapidly. People who are dealing with the issues of connectivity and shrinking power envelopes and a graphics requirement are just not used to that. So there's a massive demand for us to do a much better job of making these products stand for themselves and be usable."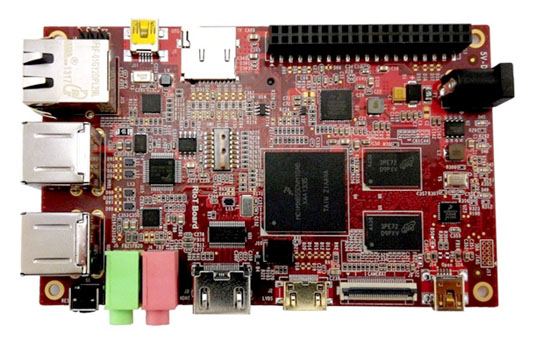 The RIoTboard: yet another obligatory low-cost learning platform
As part of this effort Freescale has teamed up with Element 14 to distribute the RIoTboard featuring a Freescale i.MX6Solo 1GHz ARM Cortex-A9 processor, costing £56. Making it affordable for developers has practical commercial considerations behind it all, as Wainwright emphasised.
"In general, if you're going to be selling processors and micro-controllers at a dollar a go, you'd better be selling them on a pretty wide basis. So trying to make this technology broadly available is tremendously important," he said.
Keep it real
In closing, Wainwright remarked that although he believed there were enormous opportunities, he could also recognise similarities with the dot-com boom in the early 2000s and today's hype behind the Internet of Things.
"When you see massive acquisitions happening for companies with very little track record, very little product actually shipped, it doesn't half remind me of 2001," he said.
"It worries me, but on the other hand this is grounded in technology that exists, so we're in a different situation. We have a number of challenges that we need to face but the technology does exist and that's a different thing." ®