Pic Huawei took the number-three spot in smartphones last year – pushing aside Sony, HTC and Nokia – but it's still practically unheard of as a smartphone brand in the UK. But that may change quite rapidly with the launch of its latest flagship model, the Ascend P7, unveiled today in Paris.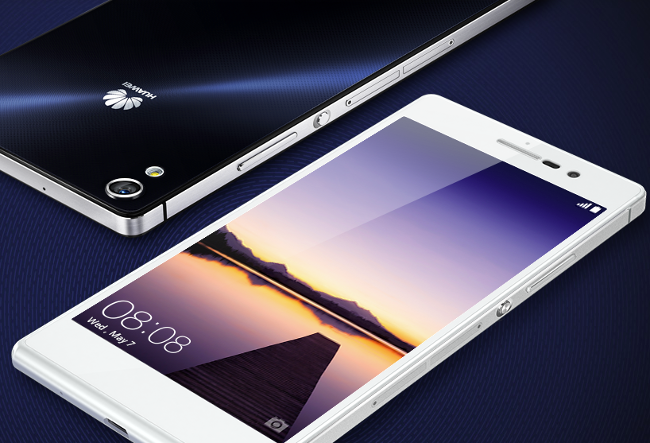 Yup, it's a phone ... the Ascend P7
The P7 manages to squeeze a dual-antenna LTE Cat4 radio into a very well-designed, 6.5mm-thick, five-inch full-HD phone weighing just 123g. (You read that correctly.) This 4G capability allows it to download from the mobe network at speeds up to 150Mbps.
The handset runs Android 4.4.2 (aka KitKat) on a quad-core 1.8GHz ARM Cortex-A9-compatible processor with 2GB of RAM and 16GB of internal storage. And with a before-taxes-and-subsidies price of €449, it undercuts rivals substantially.
At last, China has a premium smartphone contender you don't have to be embarrassed to carry around. We did warn you this was going to happen.
"China" and "design" don't really trip off the tongue, but these preconceptions may need to be adjusted. Last year's Huawei flagship, the Ascend P6, was smartly designed, but not exactly pulling up trees. While it was likely to satisfy £20/£25 contract punter, it couldn't compete in the big leagues with market leaders like the iPhone and Samsung's Galaxy S4.
The P7, however, is extravagantly well-crafted and boasts a slimmer profile – it's 6.5mm thick – with a narrower bezel than the heavyweight rivals. Huawei says over 72 per cent of the front bezel is now display – a larger percentage than that of the Galaxy S5 or iPhone 5S.
The boffinry of a new generation of Chinese R&D graduates is being well directed. The 4G handset uses Huawei's own HiSilicon CPU with a Mali-450MP4 graphics processor – but leans on Sony for the primary camera module, and Altek for a customised discrete ISP that reduces noise and generally improves results in very low light conditions.
It's slimmer than other LTE models on the market today, which Huawei says is down to a 4mm antenna. The f/2.0 primary camera is complemented by an 8MP five-piece lens front camera – all the better to take your selfie. It can also stitch together several photos for a "panoramic selfie". This is how pressing First World Problems are solved.
One nice touch is that there's a dual SIM version – and when you're not using the second SIM slot, it'll take a MicroSD card to boost capacity by up to 64GB. More likely to be used is the low power mode, squeezing one full day of standby, calls and texts from the final 10 per cent of a power cycle. The 2500mAh battery should last into a second day.
Now we've got our hands on one, we should be able to put this to the test. ®
Similar topics