This article is more than 1 year old
Net neutrality protesters set up camp outside FCC headquarters
Senator Al Franken: 'This is the free speech issue of our time'
A posse of net neutrality activists has set up a camp outside the Washington, DC headquarters of the Federal Communication Commission to protest the agency's plans to allow a pay-for-play internet.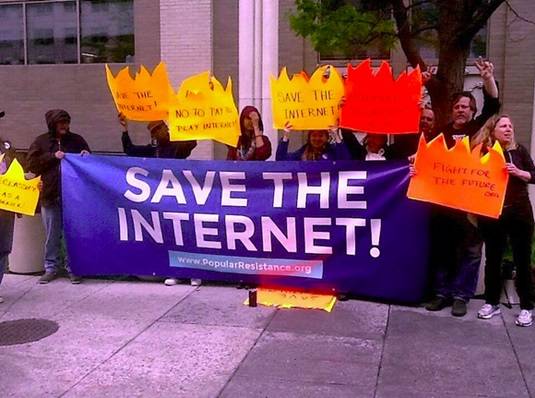 Not exactly Tahrir Square
"We don't have armies of paid lobbyists at our disposal but we cannot let the freedom of the internet be hijacked by giant monopolies," Evan Greer of protest group Fight For The Future told The Guardian.
The protesters have vowed to stay outside the FCC until its May 15 vote on whether to adopt chairman Tom Wheeler's planned rules, which would allow ISPs to negotiate deals with content providers for faster-loading websites in exchange for cash. Wheeler has defended his proposals as "not gutting" net neutrality, but few people agree with his assessment.
"The internet is as necessary to our society as shelter and water, people should have equal access to it," Greer said. "We have seen an unbelievable amount of support from people since these new rules emerged. It may seem technical but it affects everyone's life and people are not going to just stand by and let this happen."
It's unlikely the Washington, DC police force will tolerate another Occupy-style encampment in the nation's capital, but the FCC may have other reminders that some people are not pleased about the proposals to end net neutrality.
Reddit cofounder Alexis Ohanian has set up a crowdfunding campaign to raise a billboard near the FCC's headquarters highlighting opposition to the new proposals. The $20,000 goal is close to being reached and may be in time to put some additional pressure on the commissioners.
The protesters are joined, in spirit at least, by Senator Al Franken (D-MN), who has become the highest profile political figure to lend his active support to the NoSlowLane.com net neutrality campaign. He released a video on Wednesday calling the FCC's vote "the free speech issue of our time."
Franken said that the internet was invented at DARPA using taxpayers' money and has been successful precisely because it is an open platform. He cited the success of YouTube over Google Video as one example of how neutrality provides a level competitive playing field for innovative startups.
"We cannot allow the FCC to implement a pay-to-play system that silences our voices and amplifies that of big corporate interests," he said. "We have come to a crossroads. Now is the time to rise up and make our voices heard to preserve net neutrality. We paid for a free and open internet and we cannot allow it to be taken away."
Meanwhile, the White House has been almost mute over the net neutrality issue of late. President Obama has talked a mean game about protecting net neutrality, but there has been no comment on the situation since the FCC's chairman announced his proposal. ®