This article is more than 1 year old
NHS patient data storm: Govt lords SLAP DOWN privacy protections
Labour reckons GP records' slurp is a 'dead duck' anyway
Vital safeguards for protecting patients' privacy when NHS England records are shared with companies were scrapped by peers on Wednesday night.
A proposed tweak to the Care Bill, tabled by Lord Owen, would have brought in independent statutory oversight to better protect the handling of patient information across the health service, following the care.data debacle.
But government peers tossed aside the concerns by dismissing the amendment during a House of Lords session scrutinising the draft law.
Lord Owen, an independent social democrat, told the House his suggested changes to the Care Bill were needed "to ease the current suspicion and distrust over the whole issue of medical data, patient data and hospital data".
The ex-neuroscientist peer added that medical files, if strongly protected against misuse, "could be crucial for this country's future in the biological sciences and in pharmaceutical research". Indeed, the government's proposed care.data system is designed to pull Brits' GP-held files into a central NHS database, where the records can be "anonymised" and sold to private businesses, such as pharmaceutical giants.
People can opt-out of the slurp, but if everyone did so over privacy fears then the system would be worthless to the government's customers, as Lord Owen noted last night:
If the issue is handled properly and with confidence, I believe that we can ensure that the number of those opting out – which is a natural right – will be very small. As long as the number of those opting out remains small then the data will be statistically significant and extremely important.

The danger is that the number of those opting out could become quite substantial. I hope and pray that that does not happen. In our vote tonight, we will at least be showing those who are concerned that we believe that there should be a statutory underpinning.
But 259 (mostly government) peers voted against, while 165 backed the amendment.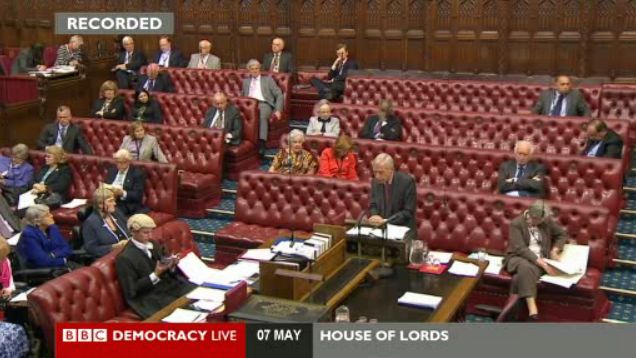 Click if you really want to watch the three-and-a-half-hour House of Lords debate on the Care Bill amendments from last night
A second proposed change to the Care Bill limiting secondary use of patient data to the provision of care and "biomedical and health research", tabled by Lord Turnberg, was also rejected last night.
Lord Howe, the minister responsible for quality at the Department of Health, agreed earlier in the debate that there might be merit in establishing an oversight panel in law whose advice and recommendations on data sharing would carry legal weight.
But he went on to unpick why, in the government's view, such a move was a waste of time.