Hadoop Daddy Doug Cutting says there's an elephant in the room
The actual Hadoop elephant the project is named after, and a need for better security
---
Not many soft toys make their mark on the worlds of business and technology, but yesterday The Reg beheld "Hadoop", the toy elephant that gave its name to the big data tool about which we've all heard so much.
Hadoop the toy elephant appeared at CeBIT Australia in the company of Doug Cutting, one of the co-creators of Hadoop the big data tool.
Cutting brought Hadoop along to the show, propping him on the lectern during his keynote and tucking him into his blazer during our chat. Hadoop once belonged to Cutting's then-five-year-old son, who invented its name. Cutting liked it so much he adopted the moniker for the software.
It didn't take much prompting to get Hadoop out into the open air, but Cutting devised a rule stating Hadoop has to be photographed in the company of two others. So the shot below is not your correspondent starf*cking*, but complying with Cutting's wishes.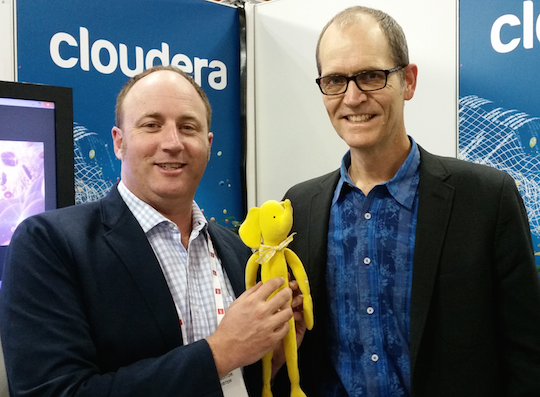 Your correspondent, Hadoop the Elephant and Hadoop co-creator Doug Cutting
If you look closely at Hadoop, the elephant, it has a small hole on its leg. Cutting says Hadoop, the software, also has a hole in its list of security features. Making Hadoop more robust is therefore something Cutting expects he, and the Hadoop community will prioritise in coming months.
Another thing Cloudera expects to prioritise is training: Cutting said there's more demand for Hadoop than there are people capable of using it. He added that he doesn't think the world necessarily needs "Data Scientists", a term he thinks is reasonable as it describes a role that's not that of a conventional statistician. But he also said Hadoop and general big data skills don't need an entirely new class of worker. "Spreadsheets let people who were not in IT do interesting computations and go to their boss and say: 'Look! I took this sales data and I did this to it and I have this cool idea about what to do next'."
"That really opened up computing to a much larger percentage of [workers inside] a company. We are at a similar point now where more people could be using the tools, but they need to learn the new capabilities."
Once they do learn Hadoop, Cuttting said he expects they'll exercise it with on-premises Hadoop clusters. While elastic cloud servers appear a natural way to deploy Hadoop, he said the majority of Cloudera customers find it makes more sense to acquire and operate their own kit rather than picking servers off the shelf as and when required.
Scale isn't the reason, he said. Price is. "If you're running something 24 by 7 and it is pretty large, it is cheaper to run it yourself." Cloudera, he therefore opined, may not have picked the very best name as it turns out the cloud era is coming a little later than it imagined, at least so far as its products are concerned.
Cutting welcomed Intel's recent and colossal investment in Cloudera and defended it by pointing out it will not lead to the company being trapped in orbit around Chipzilla because "it is not an exlcusive deal. We are not required to leave anything else behind. We can do another deal with AMD or ARM," but must prioritise work on Intel platforms before heading in other directions. ®
Bootnote
*Some readers might be thinking this correspondent has a thing for shots with technology industry celebrity soft toys. To those advancing that theory, the shot below really is Steve Wozniak. Not an Ewok.