ENTIRE UNIVERSE created in supercomputer. Not THIS universe (probably)
Do not mix with fairy cake and Total Perspective Vortex
---
Researchers at MIT and Harvard have created a a giant virtual universe – 350 million light-years squared – which can be used to simulate the real universe's development from 12 million years after the Big Bang to the present day, or around 13 billion years' worth of expansion.
Dubbed Illustris, the pocket universe uses over 12 billion resolution points to map the creation of over 41,000 galaxies during its run time. Illustris was created over a period of five years, including three months' run time for the final code on supercomputers provided by the European Research Council in France and Germany.
The simulation used a total of 8,000 processors running in parallel – trying to do it on a standard PC would take about 2,000 years of processing time to run through the half-petabyte of information created by Illustris.
The end result is a model that not only maps star and galaxy formation, but also the spread of dark matter and even the chemical composition of the universe formed in the simulation.
Shy Genel, post-doctoral fellow at Harvard's Center for Astrophysics told The Register that the model has proven surprisingly accurate at mimicking observations of the actual universe, both in its contents and in the ways matter is formed by natural processes.
He explained that the Illustris model accurately generated the two main types of galaxies – spiral formations like our Milky Way and football-shaped elliptical galaxies – observed by Hubble and other telescopes. These appeared in simulation in the same proportions as those that exist in real life, but with a twist.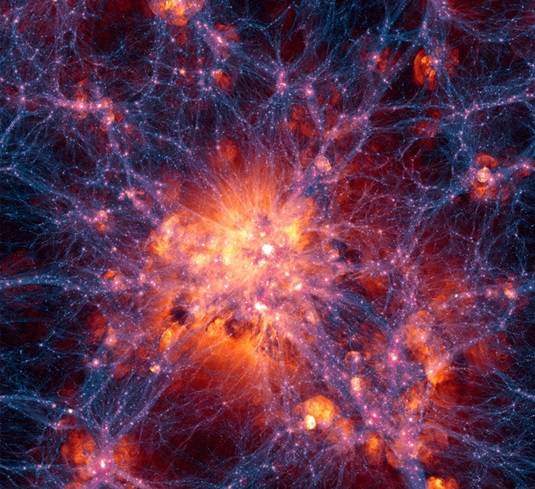 A simulated galactic cluster threaded through with dark matter
"Very small galaxies in our simulation are older than are observed in the real universe. Stars in these small galaxies formed around six billion years ago in the simulation, whereas in the real universe they only formed about three billion years ago," he said.
"That suggests that the models for supernova explosions in galaxies are not true to reality so we've already started discussions on what model to run in the next generation."
The results of the research, published in the latest issue of Nature, will now be examined and new models will be tried out on a smaller scale to test individual theories. The entire model could be rerun at a later date, once the computing time becomes available. ®
Similar topics
Broader topics