Want a twenty-buck smartphone? Go to China, says ARM exec
Prices diving faster than a peregrine falcon with lunch on its mind
According to ARM, smartphone price differentials are spreading rapidly, with the low-end approaching a floor of around twenty bucks thanks to downward pressure coming from – where else? – China.
"What you're seeing is this tremendous spread of the actual price of smartphones now, fundamentally from $700 – and actually above, in certain Japanese-market ones – all the way down to $50 and below," ARM's director of mobile solutions James Bruce told attendees at last week's ARM Tech Day in Austin, Texas.
As an example of the disparity in today's smartphone pricing, Bruce compared the price of a Samsung Galaxy S5 S-View Flip Cover – "just the cover by itself, no phone included" – and a Chinese Coolpad 7231 smartphone. The inductive-charging Samsung cover lists on the company's website for $69.99, and the Coolpad 7231 is available from Amazon China for 286.10 yuan – a hair less than $46 at Thursday's exchange rate.
And although the Coolpad is not a Samsung S5, neither is it a dog. It's powered by a MediaTek MT6572 processor with two ARM Cortex-A7 cores running at 1.3GHz, has an ARM Mali 400 GPU, a 4-inch 800-by-480 pixel display, and operates over WCDMA/GSM 3G.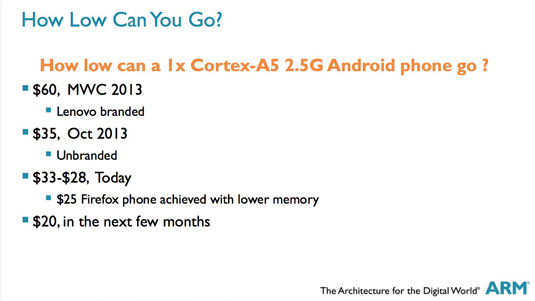 You may soon find a Chinese smartphone for the US price of a couple of six-packs of Newcastle Brown Ale
"I think what's really interesting about these $50, $60 devices," Bruce said, "is if you looked, let's say, a year ago, two years ago, they were 2.5G, they were single Cortex-A5, perhaps some of the materials were not the best. And now these $50 ones – the plastics are certainly not up to ... Samsung standards, but plastics are actually pretty decent, the screen's pretty good, and the user experience is nice as well."
Not only are these cheapo phones taking off in developing markets, he said, but they're also a good choice "if you have teenagers or kids who keep destroying phones," he joked.
What Bruce sees as especially interesting is what's going on at what he defined as the "ultra low-end" of the smartphone market. As recently as 2013's Mobile World Congress, the lowest price he coud find for a competent smartphone was a Lenova-branded 2.5G single-core Cortex-A5 phone that could be had for $60.
Later that year, a similar but unbranded device appeared in China for $35. "It was actually quite interesting – it actually ran a Windows interface on top of Android, so they were beating Nokia at their own game," he said.
And prices keep dropping. Bruce said he's found branded smartphones in China for around $33 and unbranded ones for a low as $28, and a low-memory Firefox OS smartphone – which requires less memory than Android – for $25.
In the next few months, unbranded $20 smartphones will appear in the Middle Kingdom – but that's about where the price drops will stop. "I think we're going to hit that floor – there's just nowhere to go," he said. "If you look at a voice phone, the cheapest out-of-the-factory cost at the moment in China is about $7, so $13 to upgrade to a smartphone is really not a bad deal."
It goes without saying that China is an enormous opportunity for woodshed manufacturers of unbranded, underpowered smartphones, but the country's rising middle class is highly status-conscious, as only the nouveau riche can be.
But the status-conscious are also frequently style-conscious, and for twenty to fifty bucks or so a pop, Chinese fashionistas could equip themselves with a smartphone in every color of the rainbow – and then some. Or maybe bling will become passé and cheap will be cool – the fashion world is inscrutable, after all.
But rest assured that China will dominate its domestic low and ultra low-end smartphone sales. "The absence of the world's top players such as Apple Inc, Nokia Corp and Samsung Electronics Co [from low-end markets] has provided a stupendous opportunity for local makers," Hao Jian, an analyst at China's Ministry of Industry and Information Technology told ChinaDaily in an article published this Thursday.
While The Reg doesn't expect to see Samsung, Nokia, or any of China's top brands compete in the ultra low-end market, there's plenty of room in the low and middle tiers of the spreading price continuum for HTC, Lenovo, Huawei, ZTE, Xiaomi – and many others – to duke it out.
You can forget about Apple joining that fight, we'd imagine. "We're not in the junk business," says CEO Tim Cook. ®