This article is more than 1 year old
Earthly astronomers catch best-ever image of MASSIVE solar flare
Five telescopes catch X-class belch in exquisite detail
Pics and video A combined effort by four space telescopes and one Earth-bound observatory has successfully snapped the best images yet of a huge solar flare that erupted from the Sun's surface.
The solar explosion occurred at 1:48pm EDT (5:48pm GMT) on March 29 and was an X-class flare, the largest type yet recorded by astronomers. The combined imaging from all the astronomical instruments involved has produced the most detailed pictures and video yet of the coronal mass ejection for future study.
NASA had three space-based telescopes focused on the area – the Interface Region Imaging Spectrograph, (IRIS), the Solar Dynamics Observatory (SDO), and the Reuven Ramaty High Energy Solar Spectroscopic Imager – with the Japanese Space Agency's Hinode spacecraft and the National Solar Observatory's Dunn Solar Telescope in New Mexico also sending in data.
Five images become one
Each of the five telescopes focused on different regions of the flare's path out of the Sun's environs. NASA's SDO, for example, took images of the flare in relation to the entire star, whereas IRIS peered deep into the Sun's lower atmosphere to image the first flare recorded by that orbital platform.
The whole effort was coordinated by the Dunn Solar Telescope, which identified the most likely spot for a big flare. It pinpointed the probable eruption point a day in advance of the flare, giving time for orbital platforms to focus in and, luckily, the eruption occurred at a good viewing time for the Dunn team to see it here on Earth.
"This is the most comprehensive data set ever collected by NASA's Heliophysics Systems Observatory," said Jonathan Cirtain, project scientist for Hinode at NASA's Marshall Space Flight Center in Alabama.
"Some of the spacecraft observe the whole sun all the time, but three of the observatories had coordinated in advance to focus on a specific active region of the sun. We need at least a day to program in observation time and the target – so it was extremely fortunate that we caught this X-class flare."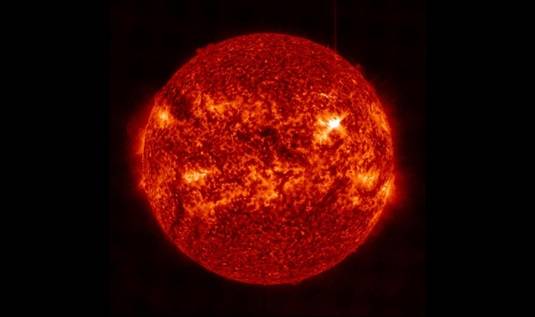 There's a massive bright spot on the Sun today
The size of the solar flare makes this an ideal event for larger study – X-class coronal mass ejections are the largest observed by man so far, although it's theorized that a solar eruption in 1859 that burnt out telegraph systems across Europe and the US was an as-yet-unseen Z-class flare – at least 40 times as large as March's display.
Were such a huge flare to occur today, the effects could be catastrophic. Satellites would be disabled and Earth-bound electric systems could take a major hammering and fail completely. A solar eruption 25 years ago knocked out power over large parts of Quebec and polar satellites suffered serious problems.
By coordinating observations, NASA and other space agencies are trying to learn as much as they can about the most violent phenomena in our Solar System. Doing so not only helps understand the Sun's workings better, but could also allow the development of mitigation strategies, should the worst-case scenario occur again. ®