This article is more than 1 year old
US alliance strengthens LOHAN imaging arsenal
Edge Research Lab donates HackHD 1080 camera
Vids Watch Video
Fans of our Low Orbit Helium Assisted Navigator (LOHAN) project know that we've recently been working on the spaceplane mission's imaging capability, with airborne tests of the budget DBcam and the prototype CENTR Camera four-eyed panoramic beast.
Amid all this excitement, we expressed doubts about our GoPro 3, which has a penchant for not charging properly, shutting down unexpectedly, and generally throwing strops.
Not good, so we were delighted when fellow high altitude ballooning (HAB) chap David Patterson, of Edge Research Laboratory, got in touch to say he and his colleagues had been following LOHAN and might be able to help out.
He wrote: "My team and I have been using the HackHD (www.hackhd.com), and have yet to suffer a failure on the cameras, despite logging a total of more than 150 flight hours on them so far (we've flown as many as 8 cameras on a single mission). Paired with a nice LiPoly pack and a 32gig SD card, we've also never seen them run out of juice or memory, even on one of our controlled floater missions that lasted about 4.5 hours (and then another 2 hours to recover)."
David said that since he had a spare HackHD lying about, he'd be happy to send it over, and no sooner had we accepted this piece of stratospheric solidarity, than the kit arrived in the post, complete with 32Gb SD card, 3.7V LiPo, switch, and indicator LED ready to roll...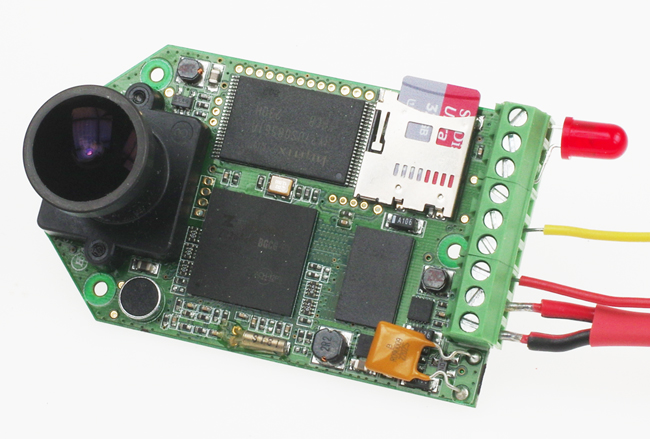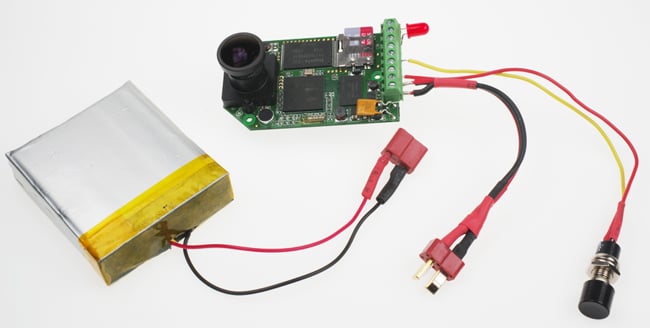 As you can see, the camera's a bare-bones affair, but that in no way compromises its performance, as witnessed by this Edge Research Lab vid of a 2012 test flight of the ArduSat prototype:
According to the specs, the HackHD packs a "2.5mm (EFL), F2.8, 160 degree (diagonal) wide angle lens" directing light at an Omnivision sensor capable of delivering 1080P HD video at 30fps (NTSC), or 5 or 9 meg stills.
Since the camera only arrived yesterday, we've just had time to rig it up and confirm it's working. It is, and here's a still from some footage of our shapely Vulture 2 spaceplane's rear end to prove it: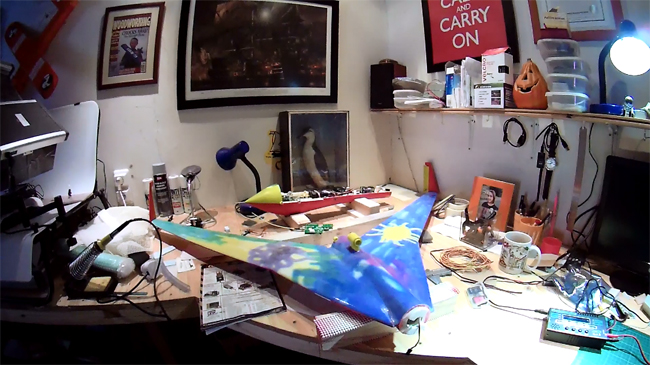 The camera's configured by a simple config.txt file. Here's the set-up the Edge Research Lab team uses to record video:
MODE=VIDEO
VIDEO_CHUNK_LENGTH=15
PHOTO_INTERVAL=10
PHOTO_QTY=0
VIDEO_QTY=1000
PHOTO_RES=HIGH
SETTING=OUTDOOR
EXPOSURE=-0.5
CONTINUOUS_MODE=OFF
DISPLAY_FIRMWARE=OFF
DISPLAY_HACKHD=OFF
AUDIO_VOLUME=4
Suffice it to say, you've got control over the basic parameters, and to produce the time lapse video at the top of this article (a tad over six hours at one snap per minute), we tweaked the config file thus:
MODE=PHOTO
VIDEO_CHUNK_LENGTH=15
PHOTO_INTERVAL=60
PHOTO_QTY=0
VIDEO_QTY=1000
PHOTO_RES=HIGH
SETTING=OUTDOOR
EXPOSURE=-0.5
CONTINUOUS_MODE=OFF
DISPLAY_FIRMWARE=OFF
DISPLAY_HACKHD=OFF
AUDIO_VOLUME=4
Once the file's on the SD card and the LiPo's hooked up you just hit the switch and away it goes. There's more on how the camera works here.
Well, that'll do us, and we have the advantage that since Edge Research Lab has already tested the HackHD at altitude, the legwork has been done for us. We're already eyeing a nice spot for the camera peeking out from the insulated electronics enclosure of our fantastical flying truss.
We're sure readers will join us raising the traditional glass or two to the guys at Edge Research Lab for their support and the offer of further help as needed. Here's another of their vids - a "quick showcase" of the lab's people and capabilities:
We'll bring you more details on just what the lab is brewing up as soon as we have them. In the meantime, we note that they have their own pursuit aircraft, and when we expressed mild incredulity, David said: "Yes, we have a chase aircraft - and if you're looking to get one (or work with a local flying club, which is far less expensive than procuring an aircraft outright), I'd strongly recommend going with a composite airframe.
"Cessnas and the like are flying Faraday cages, but an all-composite aircraft is virtually transparent to all of the tracking frequencies that we use on a regular basis (144MHz, 440MHz, and 900MHz), eliminating the complexity (and bureaucratic headache) of adding external hardware to the airplane."
Well, we've taken all that on board and are mulling a Gobosh 800XP, although it might prove challenging slipping the $136k receipt past El Reg expenses tsarina Caroline. ®
---
More from the lovely LOHAN:
---