Psst, keep this under your hat, but NetApp's new flash wunderkind will be unveiled on...
Clue: There'll be time for a Vegas blow-out to celebrate
---
NetApp is holding an Insight event in Las Vegas in October – and its new all-flash box FlashRay is set to steal the show.
FlashRay is a designed-from-scratch solid-state storage array, and we've written about it here. Now it's likely to be fully unveiled before or in time for the Vegas event on 28 October, The Reg storage desk understands.
Here's a description of a session track at this year's Insight:
Platforms (All Flash Array)

NetApp offers the most diverse Flash portfolio in the storage industry. The All Flash Array track covers the two distinct NetApp all-flash array platforms, namely EF-Series and FlashRay. NetApp is the only vendor in the storage industry that offers two compelling all-flash array architectures. EF-Series excels at extreme performance with ultra-low latencies and works with applications to drive data management features; FlashRay will balance all-flash performance and rich data management features such as inline deduplication and compression. This track complements other tracks such as Flash, Competition, Database, Engineering Applications, and Virtualization."
FlashRay is NetApp's response to homegrown all-flash arrays from Cisco (the Whiptail Invicta), EMC (via XtremIO), IBM (the FlashSystem), Pure Storage, Solidfire and Violin Memory.
It will complement the all-flash EF540 and EF550, which are basically flash-fitted versions of the disk-based E-Series and are, hence, limited by that architecture.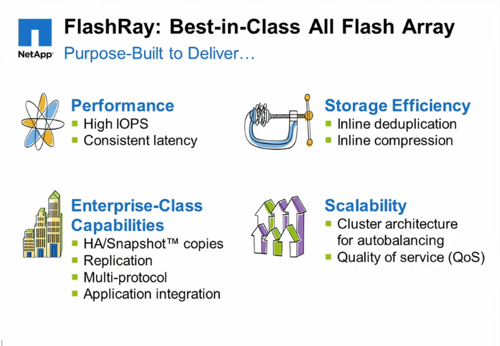 There is going to be a new StorageGRID product as well at Insight:
This [session] track will introduce the new StorageGRID Webscale object storage solution. Attendees will learn about emerging web-scale object storage use-cases, solution requirements and deployment strategies. Technologies discussed will include: RESTful Object APIs (S3, CDMI, SGAPI), object protection strategies (replication, Erasure Codes, DDP) as well as future technology trends within the object storage industry.
And a new version of ONTAP, v8.3, will feature striped RAID and enhancements in synchronous disaster recovery, virtualisation support, and data efficiency features. ®