This article is more than 1 year old
Nintendo says sorry, but there will be NO gay marriage in Tomodachi Life ... EVER
Claims patching it would be impossible (this time)
Gaming heavyweight Nintendo says it's sorry to disappointed customers for not including same-sex relationships in its Tomodachi Life simulation game, but that it's too late to do anything about it.
The Mario Bros. maker posted a public note of apology to its website on Friday saying it was "committed to advancing our longtime company values of fun and entertainment for everyone," but it stopped short of suggesting it would change the game.
"Unfortunately, it is not possible for us to change this game's design, and such a significant development change can't be accomplished with a post-ship patch," the note explained.
Nintendo has come under fire for not updating its Sims-like life simulator for the 3DS handheld console to support same-sex marriages, despite a social media campaign urging it to do so.
The game has been wildly popular in Japan, and it's expected to be a big seller when it hits North America and Europe on June 6 – something Nintendo desperately needs.
Earlier this week, Nintendo's US division told the Associated Press, "The ability for same-sex relationships to occur in the game was not part of the original game that launched in Japan, and that game is made up of the same code that was used to localize it for other regions outside of Japan."
In other words, Nintendo changed the content for the non-Japanese versions of the game, but not the code.
Nintendo added that Tomodachi Life was intended to be "whimsical and quirky" and that it was never meant as any sort of social commentary.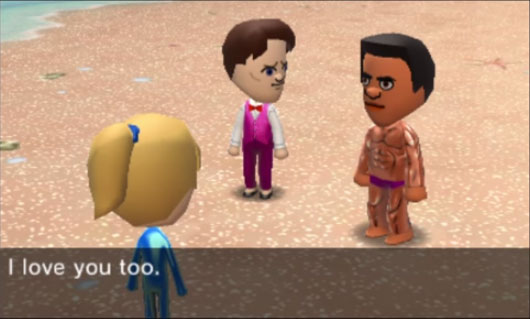 Don't get any ideas, fellas. Let's keep things 'whimsical,' shall we?
But that answer didn't satisfy LGBT advocacy group GLAAD, which blogged, "By telling users that the US release will not include these options despite demand for them, they are very much making a social statement favoring opposite-sex relationships over same-sex ones.  In Nintendo's 'playful alternate world,' our relationships do not exist as they do in 'real-life,' and LGBT players get the message that we aren't welcome in that world."
It also isn't clear that Nintendo is being honest when it claims it won't be able to update Tomodachi Life post-launch. In fact, when the game launched in Japan – where it is known by the longer title Tomodachi Collection: New Life – male characters could marry other males (but females couldn't marry females). Nintendo called that a bug and issued a patch to quash the gay weddings.
Gamers intent on finding a same-sex spouse in a virtual world have the option of playing The Sims instead, where it's allowed. Or they may just have to wait forthcoming release from Nintendo, which claims to have learned its lesson.
"We pledge that if we create a next installment in the Tomodachi series, we will strive to design a game-play experience from the ground up that is more inclusive, and better represents all players," the company said in its statement. ®