GM has announced how much it will set you back to turn one of its 4G LTE–equipped vehicles into a mobile hot spot for Wi-Fi–only kit such as the one your li'l nipper will use to stream NetFlix in the back seat on the way to grandma's house.
"Chevrolet, Buick, GMC and Cadillac will be the first vehicle brands to market with 4G LTE connectivity offered on such a broad scale," said OnStar President Mary Chan – OnStar being GM's partner in providing over-the-air security, navigation, diagnostics, and other capabilities.
While GM's vehicles may be the first to offer 4G LTE on what Chan characterizes as a "broad scale," they're not the first to add such tech to their line in the US. As Forbes points out, a few weeks back, Audi began offering 4G LTE Wi-Fi hotspot connection through its OnStar-ish Audi Connect in its new 2015 A3 sedan.
GM's rollout, however, will be a wide one, beginning with the soon-to-be-released 2015 Chevrolet Malibu, then followed by 15 Chevys, four Buicks, six Jimmies, and seven Caddies, all by the end of this year. Each in-car Wi-Fi hotspot will support up to seven simultaneous devices, which GM notes can include laptops, game consoles, smartphones, and tablets.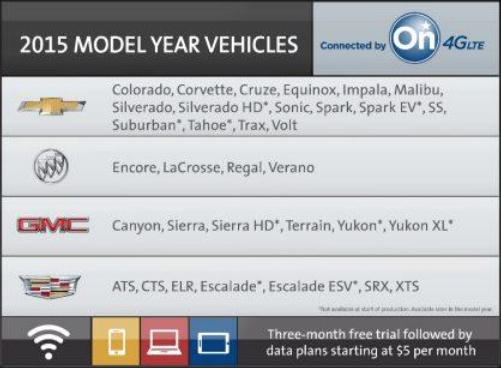 A moment of silence for Pontiac, Oldsmobile, and Saturn – or, for that matter, LaSalle and CarterCar
GM will use the tried-and-true "the first one's free" marketing model to get customers to use its service. "We're excited to give millions of customers an opportunity to explore the technology without paying extra for a data plan for three months or three gigabytes," said Chan.
After that test run, GM – through its online provider AT&T – will start charging for data streaming. Subscribers to OnStar's Safe & Sound or Directions & Connection services will be able to add 200MB of data per month for $5, 1GB for $15, 3GB for $30, and 5GB for $50. Non-subscribers will pay $10, $20, $30, and $50 for the same bandwidth amounts.
GM cites AT&T's Data Calculator when saying that 200MB of bandwidth is "enough to stream more than 6.5 hours of music, surf the internet for 13 hours or send more than 10,000 emails without attachments."
Another nicety that GM hopes will entice users is the ability to not subscribe per se, but to simply bag one day's bandwidth of 250MB when needed – say, during the aforementioned trip to granny's – at $5 for OnStar subscribers and non-subscribers alike.
Finally, should you just want to load up on bandwidth, big-time, you can purchase it in 12-month, 10GB chunks at $150 for OnStar subscribers and $200 for non-subscribers. Fleet deals can also be negotiated.
Color us old-fashioned, but we look back through a gauzy nostalgic veil to the days when long car trips meant fighting, fussing, and fidgeting in the back seat rather than each kid being hypnotized by a glowing fondleslab, cocooned in their own isolated world, most definitely not seeing the USA in their Chevrolet.
But then again, your Reg reporter won't miss having to howl at his own back-seat brawlers, "Don't make me go back there!" ®
Similar topics