Capture the flag?
With the Rocket, recording couldn't get any simpler. For me, its main selling point is that there's one whopping red button you press to start and stop recording. Capture on the Elgato is rather more complicated, as initially you have to flip out of the game to start recording, but then again it does have Flashback recording as well. This latter uses a buffer, allowing you to wind back gameplay and record from a specific point – you can go back an hour should you wish.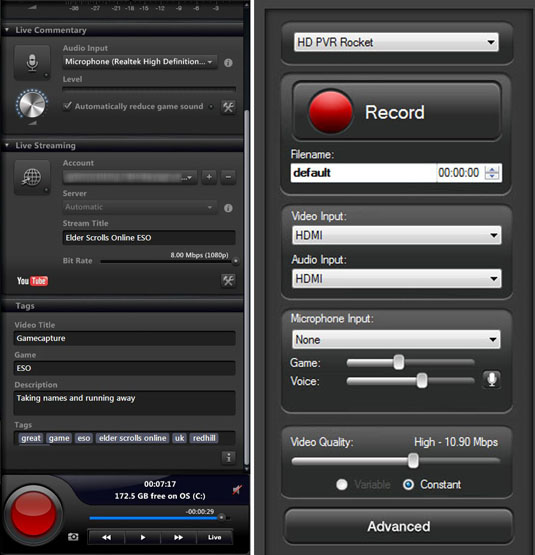 Elgato and Hauppauge basic capture interfacing – click for a larger image
Configuration is much the same on both units, consisting of simply connecting HDMI or component cables from the console into the gaming PVR. The HDMI output from the gaming PVR goes into the TV. The USB from the PVR goes into the console or PC to power the device. It can also used to relay the video to a PC for recording – with the Elgato supporting Macs too.
While Apple fans might grumble about the Rocket's lack of support for the platform, the device does include the option to use USB thumb drives of up to 32GB for capture in standalone mode. See what I mean about the Rocket being portable? Record this way and you end up with MP4 files, which iMovie shouldn't have any problems with.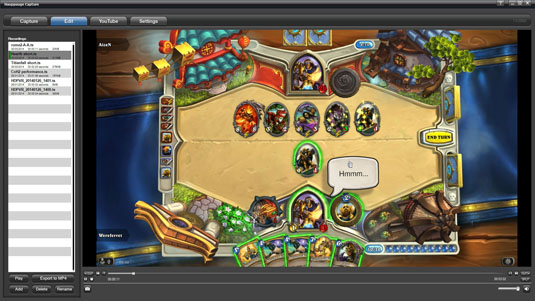 Hauppauge HD PVR Rocket software editing – click for a larger image
The Rocket's highest capture bit-rate is 18Mbps and it records high-def H.264 compressed vids at resolutions of up to 1080i. The vid-capture software produces .TS files on the PC, which can be exported to MP4. The Elgato can capture at up to 30Mbps and is H.264 MP4 all the way. On both devices the bit rate can be varied by altering the capture quality. If you experience problems with HDCP on video streams, the analogue component video capture option on both devices can overcome this.
The reason why these boxes are so great is that there's no lag – unlike if you were to run Fraps – a Windows-only software-based capture system. Even with a blisteringly fast gaming PC, Fraps is going to eat my frame rate. In tests, I mainly recorded from my PC but recording HD footage from my PS3 using component cables was super-simple too.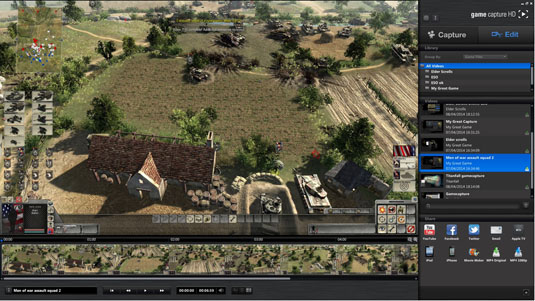 Elgato Game Capture HD – click for a larger image
Certainly, I'm impressed at the ease of use and quality of the recorded video and audio – it's way better than any SDI plug-in capture card I've seen recently. Reliving moments from Men of War: Assault Squad 2 running at 1080p 30fps is enough to make me a little dewy-eyed.
The fact that I have a super squeaky voice when I get excited, is probably one of the reasons why I will never be filling in for Dodger from pressheartcontinue. Even though there's a built-in audio control on both units for me to record in-game commentary, I don't think you'll be hearing my dulcet tones any time soon. But if you do feel like a bit of fast-yapping Yahtzee action, just plug your mic into the 3.5mm jack socket.
The Reg Verdict
Amazingly portable and easy to use, the Hauppauge HD PVR Rocket and the Elgato Capture HD produce good-quality video and audio. I do feel the editing and streaming software on the Elgato is superior but the recording accessibility of the Rocket's one-touch big red button makes it a comparable product.
My only mega-moan would be for a screenshot button on the physical units or at least some kind of remote control to click for screen shots while I'm playing. That said, they're both definitely worth considering, especially with the prospect of making a million quid a year. Just call me Luciepie. ®
More YouTube gaming vids from the deathmatch here.

What the frag? Earn millions as the world watches you SLAY rivals
High quality video capture with a wealth of live streaming options.

What the frag? Earn millions as the world watches you SLAY rivals
Lightweight, portable capture device featuring USB thumb drive recording.