Twitter has introduced a "Mute" option that allows users to turn off tweets from contacts without the need to unfollow or block those users.
The company said that the option to mute users has been enabled for Twitter's iOS and Android clients, and that support for the option on the Twitter.com site itself is set to be introduced in the coming weeks.
For mobile users, the mute option will be available under the "more" item on a tweet or a user's main feed page, alongside the "block" and "report" options.
Designed as a gentler way to remove particularly chatty or otherwise unpleasant feeds from the main timeline without notifying or otherwise alerting the user, the mute option will allow a user to keep the muted person as a followed contact without removing the ability to mark the tweet as a favorite or retweet.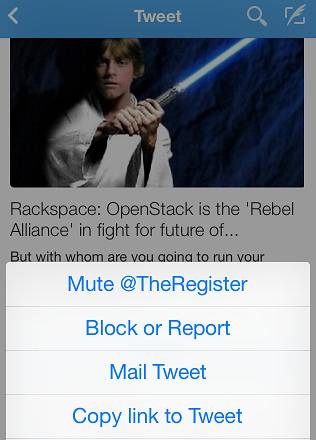 For when Tweets get a bit too aggressive
"In the same way you can turn on device notifications so you never miss a Tweet from your favorite users, you can now mute users you'd like to hear from less," explained Twitter product manager Paul Rosania.
"Muting a user on Twitter means their Tweets and Retweets will no longer be visible in your home timeline, and you will no longer receive push or SMS notifications from that user," Rosania said.
The mute option has been in development at Twitter for some time now. The company had been testing the feature with a limited number of its mobile users earlier this month, prior to enabling the mute button for everyone. The release is not the first time a mute button has been offered for Twitter – third-party apps such as Tweet Deck have had mute functionality for some time.
The release of the new feature will provide a welcome bit of good news for Twitter, which has taken a beating in the market as of late as the company continues to struggle to meet investor expectations with its financials. ®