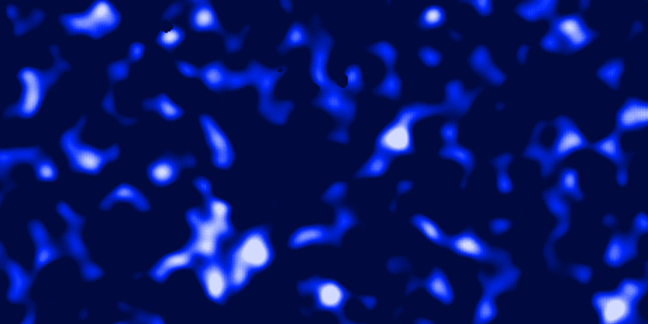 Australian physicists are looking at an unused gold mine in the Victorian town of Stawell to see if it's a suitable spot for a dark matter detector.
As reported in the Wimmera Mail Times here, the Stawell Gold Mine Future Possibilities project has okayed the Centre of Excellence for Particle Physics at Terascale (CoEPP) to start taking underground measurements.
As University of Melbourne astrophysicist Katie Mack explained in an e-mail to The Register, the mooted detector would be looking to replicate the work of the DAMA/LIBRA experiment in Italy. This long-running dark-matter search, at the Laboratori Nazionali del Gran Sasso, looks for an annual modulation in the flux of particles hitting its detector from season to season.
"If dark matter is coming through as part of whatever is creating their signal, they expect to see more of it around June, when the orbit of Earth around the Sun means it's moving into the dark matter "wind" than around December, when it moves more with the wind," Mack told Vulture South, and while it claims a strong signal, other experiments haven't consistently found dark matter.
A Southern Hemisphere replication would make sense, she said, since the same tests in Australia would, if DAMA/LIBRA has detected dark matter, see the modulation peaking in June. "If our experiment's signal peaks in December, that suggests it's something terrestrial," she added.
Hence the search for sites. Comments made by Mack to The Economist brought contact from the owners of the gold mine, Crocodile Gold, leading to the current investigation.
As a first step, the CoEPP team will be measuring the radiation present in the Stawell Gold Mine environment.
"Any kind of errant particles can cause problems, so we have to check things like how much radioactivity the mine's rock walls might have, and how big a shielding effect you get by being that deep underground," she explained.
"There are people down there now measuring radon levels, and in a few weeks the School of Physics is going to set up some of the other measurements as part of a third-year project. The task right now for CoEPP and the University of Melbourne is to determine if the mine will be shielded and quiet enough for the detector, and to bring in the collaboration of other institutions that are building some of the detector hardware."
The detectors would be built along the same principles as are used in DAMA/LIBRA: crystal targets for the dark matter to interact with, and detectors to spot the faint scintillations that indicate a hit.
DAMA/LIBRA's 25 scintillators are made from thallium-doped sodium iodide in a five-by-five matrix, with two photomultipliers coupled to each crystal.
Mack said the project is currently being led by Swinburne University's Jeremy Mould and Melbourne University's Elisabetta Barberio, and the group is planning an international workshop in late September, which will be co-hosted by CAASTRO and CoEPP. ®
Sponsored: How to simplify data protection on Amazon Web Services