Did hackers scoop source code from DayZ zombie game brains?
Alleged unpatched support system fingered by infosec bod after debug dump dumped
It's feared source code for the apocalyptic zombie game DayZ may have fallen into the hands of hackers after an alleged security breach at publisher Bohemia Interactive.
Someone called DrWhat, apparently based in the UK, appears to have uploaded debugging data for the game's executable – specifically a program database file (PDB) which is generated from the executable's source.
It's believed this file could be proof that the source code for the game is in the hands of DrWhat and his pal the1domo – or perhaps that they've been able to grab the debugging data from an internal system. The PDB, uploaded last week, was apparently downloaded by 192 people before it vanished offline.
Famous for its brutal violence, life in DayZ's 225km2 virtual world could become even nastier if cheats and other exploits are developed using information gleaned from the source code – if it was indeed swiped. Two million copies of the popular Windows game have been sold.
The PDB was revealed not long after one of Bohemia's websites – support.dayzmod.com – was suspected of being vulnerable to an SQL injection attack that could, say, leak usernames and passwords for privileged accounts. It's believed that database was compromised, and its suspected infiltration is linked to the PDB emerging on the UnKnoWnCheaTs website.
Australia-based Asymmetric Security founder Kayne Naughton told The Register he warned Bohemia that its DayZ support server was at risk on 29 April, but has yet to receive a response. The publisher took the server offline soon after, we're told; it is still down at time of publication.
Naughton suspected Bohemia's admin credentials had been obtained after a hacker called Surivaton named on 19 April several websites that were allegedly vulnerable to an SQL injection hole in popular support'n'billing software WHMCS (specifically version 5.2.8). This software is believed to have been deployed on the DayZ support site; this particular flaw was patched in WHMCS 5.2.9 in October last year.
It's possible DrWhat and his chum exploited the SQLi flaw themselves, or perhaps used credentials possibly leaked by Surivaton to break into the support site. If they did worm their way in, they may have used it as a stepping stone to other systems within the publisher's network to grab whatever they were looking for.
The pair claimed on the UnKnoWnCheaTs site that the PDB download was for "debugging", and the file supposedly matches version 0.28.x of the game executable, which is rather old. "It would be too easy if I released the PDB for 0.44," DrWhat noted, tellingly. A DayZ .exe is bundled with the PDB, we're told.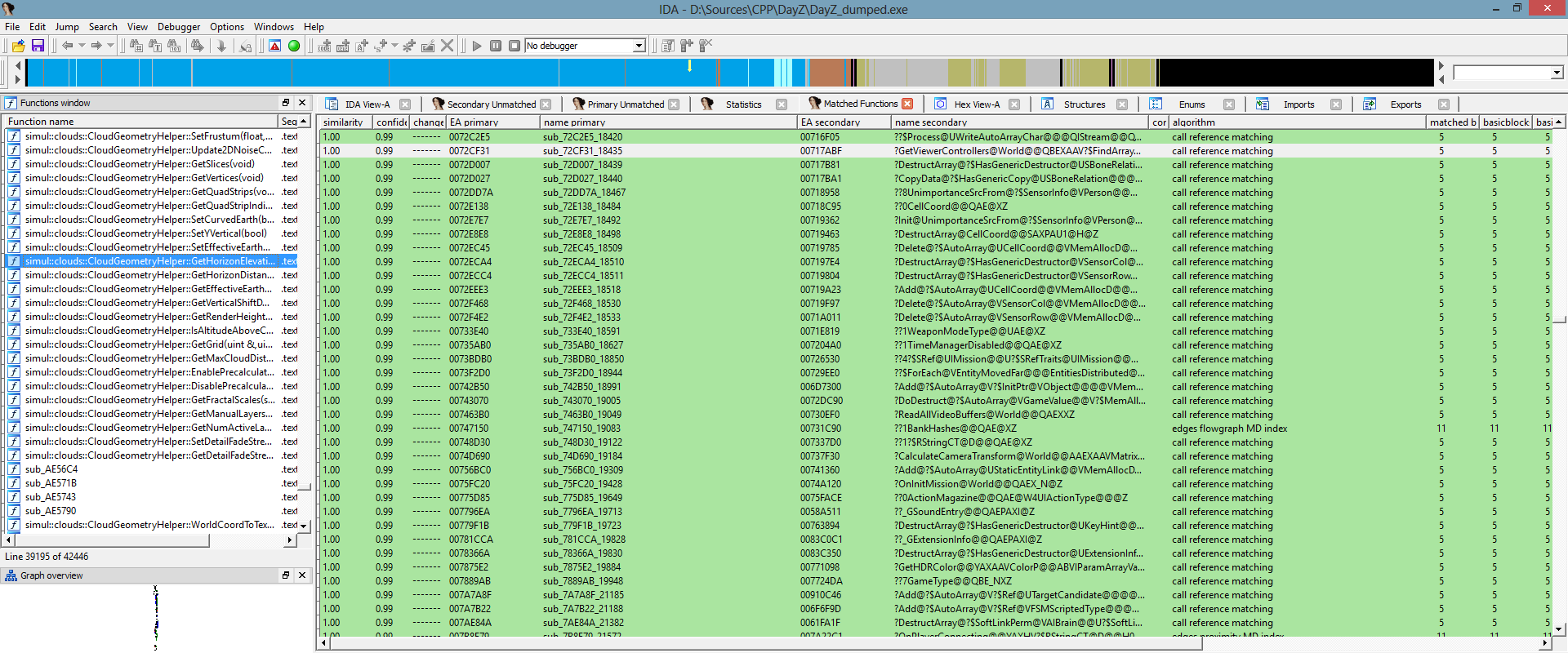 What's your major mal-function? The PDB analysed by an UnKnoWnCheaTs user, who said there were about "8,000 un-matched functions"
Naughton suggested Bohemia may need to rewrite the game to keep miscreants out, if the code was copied.
"The theft of the source code makes it a lot easier for people to develop cheats to ruin the gaming experience for legitimate players, and may help to expose security flaws in the DayZ software," said Naughton.
"Ultimately," he added, "when source code or PDB is stolen, the cat is out of the bag and no matter what you do you can't take that knowledge from your adversaries unless you rewrite from scratch."
He said the alleged breach showed companies must react quickly to vulnerabilities in software developed by third parties, and maintain at least "rudimentary" intelligence of open-source security issues.
El Reg contacted Bohemia Interactive for comment, but we've yet to get a response. We'll update this article if we hear more. ®