The Moto G 4G: This is a 4G bargain
Perhaps of more interest to slightly less skint punters is the Moto G 4G/LTE – the original Moto G could only support up to 3G. It shares the same pin-sharp display and battery (and alas the same iffy camera) as the original G. The family resemblance is so strong even experienced hacks were confused by the appearance of your reporter's original G alongside the newer models, and busied themselves taking snaps of my older phone.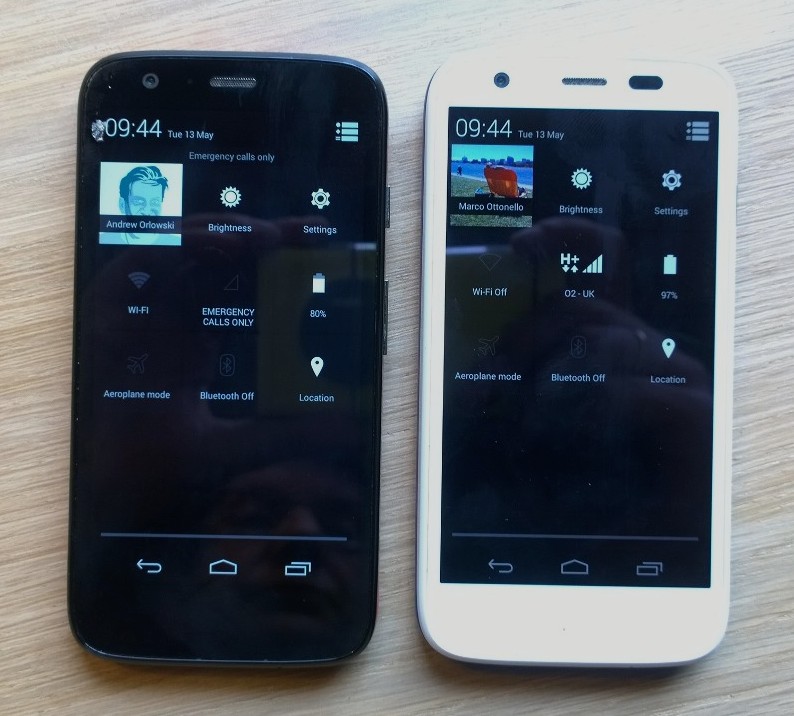 Side by side ... the original Moto G, left, and the new Moto G 4G, right
The original Moto G was a deserved hit: it ran a barebones Android without the slowdown from the bloatware usually bundled by phone manufacturers.
It had a lot going for it: a dialer app that was quick to open, and good and loud alerts that were spot on. The result was a strong comeback from a company that had almost disappeared. The chief criticism of last year's G was lack of support for removable microSD cards – this has been rectified in the Moto G 4G.
The LTE-friendly G features a quad-core 1.2GHz Snapdragon ARM Cortex-A7 CPU from Qualcomm, 1GB of RAM, 8 or 16GB of storage, an excellent 4.5" display (720 x 1280 pixels), and a decent battery (a 2,070mAh part) – and it's in a very comfortable and sturdy little package measuring 129.9 x 65.9 x 11.6mm (5.11 x 2.59 x 0.46in).
At £149 the Android 4.4.2 Moto G 4G/LTE will compete head on with the comparably priced Nokia Lumia 625 and EE's own brand Kestrel, on sale at just £99 on pre-pay (with 10GB of monthly data thrown in).
But for this money, a Moto G 4G will get you a well-designed package, some quite useful Moto software, and (the company is keen to stress) regular platform bug-fixes and updates. It has the same range of cases as the Moto E plus a flip case that switches the display on and off.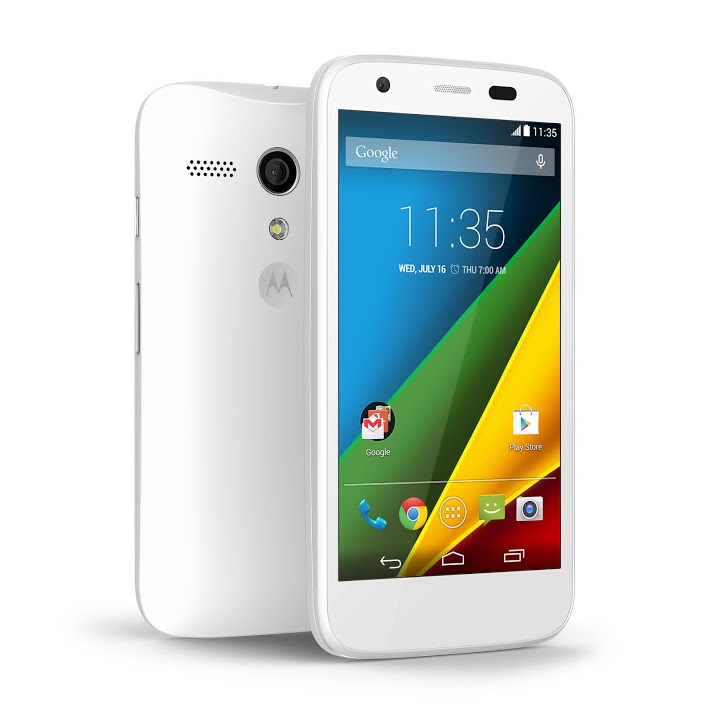 Moto G 4G ... shiny, shiny (click to enlarge)
To give it its full title, the "Moto G with LTE" is physically more or less the same as the original 3G G but 1g heavier, which is an achievement as it now packs an additional microSD slot and LTE antenna.
The G 4G features a sharp 326dpi display, and its 5Mp (2592x1944) camera is also identical to its 3G sibling. It's a little disappointing that the microSD card slot only accepts cards up to 32GB, as the new Lumia rival takes up to 128GB.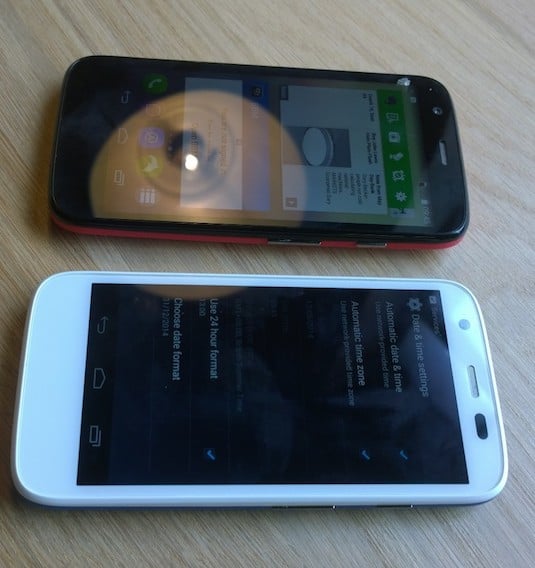 The original Moto G (top) and G with LTE (bottom) ... The G looks smaller, but that's because – like the cow, Father Dougal – it's further away.
Motorola's odd choice of launch venue also meant we couldn't test the LTE performance, even superficially. The best the O2 SIM could latch onto was 3G.
Where the "G with LTE" really scores today is with its compact, durable design. Nokia's Lumia 625 set the bar last autumn, priced at under £150 with EE pay-as-you-go, and that's now fallen to £99.99 from both EE and O2 in the UK. EE's own-brand Kestrel mobe can be had for £99, but it runs an older version of Android (JellyBean). It does however features a faster processor.
The new G can boast a much more pocketable package than the 625 – and, of course, a far greater choice of third-party apps from the Google Play Store. Forty quid more at EE will get you a Samsung Galaxy Ace with slower processor, lower resolution screen, and smaller battery.
While we haven't seen a UK operator's price tag for the new 4G G, the mobe promises to be a cracking deal. ®
Similar topics