This article is more than 1 year old
Gigabyte Brix Pro: You don't need no steenkin' Xbox... when you have 4K-ing amazing graphics
Right? Core i7 paperweight with Intel Iris Pro 5200 graphics
Review PC sales maybe on a downward trend, but it seems there will always be an interest in an alternative to buying into the console wars. Enter the Gigabyte Brix Pro, just one offering among over a dozen from manufacturers that have committed to releasing Steam gaming machines this year.
This heralds the beginning of the latest generation of ultra-compact PCs inspired by Intel's NUC (Next Unit of Computing) hardware. Intel even worked with Gigabyte on assembling the Brix Pro, which can be bought pre-configured or as a barebones PC.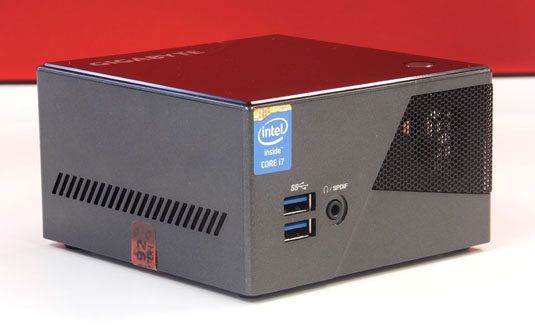 Next Unit of Console? The Gigabyte Brix Pro
As a concept, what makes the Gigabyte Brix Pro interesting is the Intel Core i7-4770R 3.2GHz quad-core processor and the integrated Iris Pro 5200 Graphics that can deliver 4K resolution.
This chip isn't available in retail-boxed desktop CPUs (as denoted by the R in the processor name). However, it is available for small form factor PC makers and as this box is Steam-approved, testing its gaming chops is certainly on the agenda here.
The review sample build of the Gigabyte Brix Pro came with 8GB of Kingston 1600MHz DDR3L RAM, an Intel 525 240GB mSATA SSD and Windows 8.1 Pro installed. Out of the box it soon lets you know when it's busy. The fan varies in intensity like a whistling wind when updates are being processed, yet for basic tasks such as web browsing and word-processing, it's close to silent.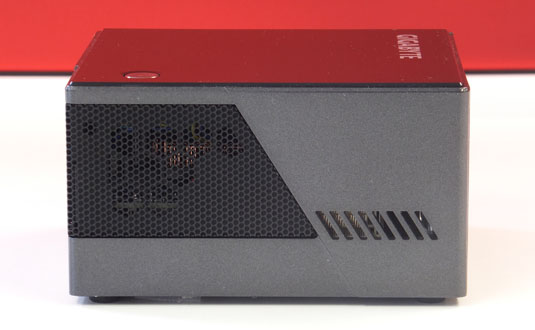 Most of the casing features vents, which it needs when the games begin
Intel's Smart Connect Technology goes through the motions of nagging you to turn it on during every restart and if you try to activate it, you're then informed that the "agent is not running". The setup then reported "Platform Check Failed… not found in BIOS, or it is not enabled".
It can be set to work in the BIOS though, but after that palaver, I turned it off anyway as it seemed more useful to laptop than desktop configurations. In short, it collects emails, social media stuff and synchronises files in the background when the device is in sleep mode.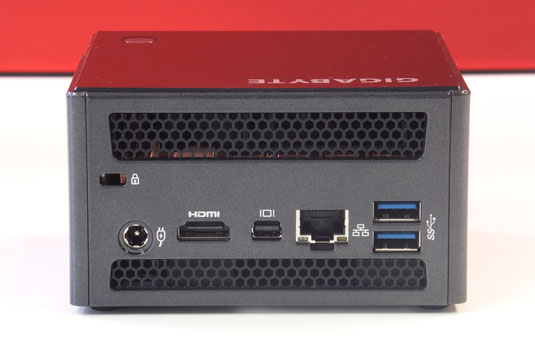 HDMI and DisplayPort but alas no Thunderbolt compatibility – USB 3.0 all round though
You won't find a VGA port around the back but having the option of HDMI and mini DisplayPort is very useful. Unfortunately, the latter doesn't double up to perform Thunderbolt interfacing duties – a missed opportunity, surely? Talking of doubling up though, besides the mSATA SSD interface, the base can accommodate a 2.5-inch drive so you can maximise capacity and performance with additional storage. There are only two RAM slots and according to Intel the Core i7-4770R processor will accommodate up to 32GB of RAM.
In the box you'll also find a plate for VESA mounting, so you can have a go at a DIY all-in-one PC and screw it to the back of a monitor. To save you from groping round the back of the screen in this scenario, there's a tweak in the BIOS that enables power on via USB, so a mouse or keyboard can be configured to bring it to life.

Benchmarks: CrystalDiskMark, AS SSD and ATTO – click for a larger image
Measuring the SSD performance using CrystalDiskMark appeared a long way off the 550MB/s read and 520MB/s write speeds claimed for the drive, as it clocked up 450MB/s read and 298MB/s write from the boot drive. ATTO scores gave a very different picture with larger file tests exceeding Intel's figures with 530MB/s read and 556MB/s write. Startup times were good though, consistently managing a boot to desktop in just under 12 seconds.
Benchmarking with Futuremark's PCMark 8 clocked up a respectable best figure of 3581 with a casual gaming frame rate of just over 50fps and this is at full HD, so it should keep gamers happy – we'll find out what our PC gaming expert Lucy Orr thinks of the Brix Pro in a moment.