This article is more than 1 year old
Gigabyte Brix Pro: You don't need no steenkin' Xbox... when you have 4K-ing amazing graphics
Right? Core i7 paperweight with Intel Iris Pro 5200 graphics
Counting the cost
The barebones of the Core i7-4770R Gigabyte Brix Pro comes in around 550 quid but that doesn't include a hard drive, memory or an operating system, and these sure do add up. I would like to see all of this included for this price for it to become competitive with consoles. Yet finding a Brix closest to this price on offer from UK distributor Ambros, forfeits the Iris Pro graphics.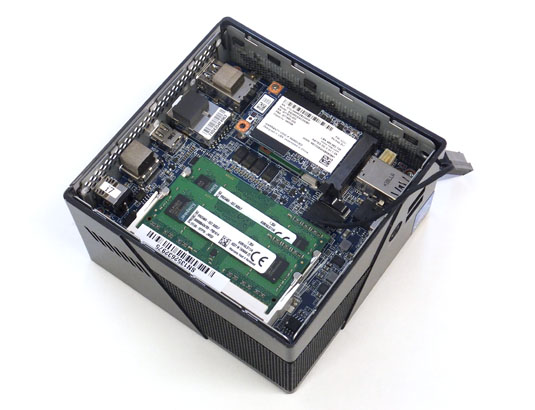 Barebones computing: two RAM slots and kitted out with an mSATA SSD
As for the added extras, if I didn't want to pay for Windows 8, then I could perhaps instal the SteamOS beta. In fact, I gave this a try but sadly didn't get very far. The Brix Pro I was sent only had a 240GB Intel SSD and you need at least 500GB available to install the SteamOS beta.
Following Lucy's tests, the Brix Pro returned to Vulture Central and so I gave SteamOS a try with a Samsung 840 EVO 512GB SSD fitted into the spare bay. To save yourself a few headaches, download the SteamOS ISO installer. You can burn a disc or a free utility to transfer to a USB stick – the Universal USB Installer from Pen Drive Linux worked fine.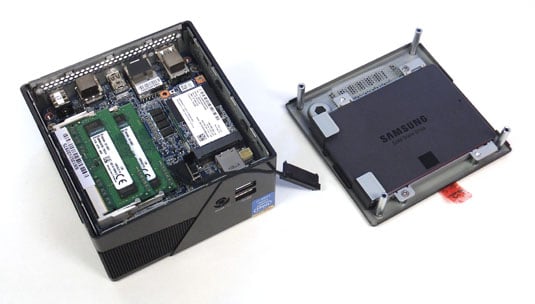 There's room in the base for a 2.5in drive too, herewith a Samsung EVO 840 – click for a larger image
Choose "Expert Instal" and to use a separate drive, the Guided Partition option will save you from any confusion once you've selected the target device. After the installation, you end up at the Linux desktop first time round and only around 4.7GB of storage used. When you set up the networking, it automatically hauls in a beefy update, reboots and then you're faced with a Steam login.
You'll have to go into Settings > Interface to enable access to the Linux desktop, otherwise you'll be stranded in Steam's Big Picture mode. This does seem to have its own share of demands, as even browsing the Store had the fan belting away at times. Ambient sounds play in the background and when watching Trailer TV, access to a volume control would have been handy as the keyboard volume function keys didn't work.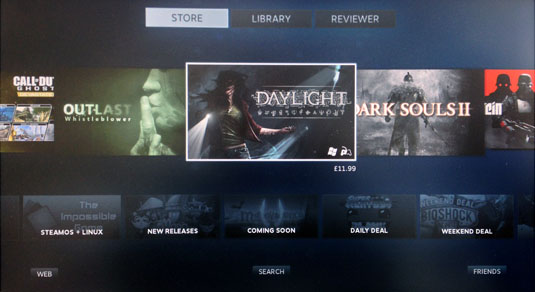 Approved Steam Machine: SteamOS on the Gigabyte Brix Pro
So what's SteamOS like for gaming? Well, the EVO's in the post to the Land of Orr and Lucy will be delving deeper into this and giving her impressions soon. In the meantime, you might want try and win a Samsung 840 EVO, as there's a daft game on Facebook with giveaways to the fastest players. As for this nifty NUC impersonator, here are Lucy's closing thoughts on this Steam Machine.
The Reg Verdict
The Gigabyte Brix Pro's graphics certainly aren't as sharp and crisp as my Dell Alienware 18 but then again the price isn't as sharp either. Under duress, the Gigabyte Brix Pro runs hot and smelly, although I didn't encounter any problems in the short term, I do wonder if it might eventually burn out like one of the early consoles. Gigabyte might reckon the cooling is up to the job but in my gaming experience I'd say this midget machine needs a very energetic punkah wallah when the heat is on. ®

Gigabyte Brix Pro: You don't need no steenkin' Xbox... when you have 4K-ing amazing graphics
SteamOS approved diminutive barebones PC featuring a desktop quad-core Intel Core i7 4770R CPU with Iris Pro 5200 graphics supporting up to 4K resolution.
Price:
£549 (barebones), £900 (tested configuration) RRP