Survey: Patent litigation skyrocketing, trolls top 10 sueball chuckers
Most sued company? Some fruity firm from Cupertino, California
---
A new survey confirms what your own good common sense has already told you: 1) patent-infringement cases are increasing, ii) the most litigious plaintiffs are patent trolls, and C) the most-sued company is Apple.
"The patent case load of the district courts has more than doubled since 2008, and verdicts like Apple-Samsung have captured headlines with eye-popping damages," write the authors of a report (free registration required) compiled by Lex Machina, a collaborative effort of Stanford University's computer science department and its law school.
Patent litigation had been relatively stable from 2005 until 2011, when a surge began that continues today. Lex Machina's exhaustive digging through public records turned up the disturbing fact that plaintiffs filed 6,092 new patent cases in US District Courts in 2013, a 12.4 per cent jump up from the 5,418 new cases filed in 2012.
In September 2011, President Obama signed the Leahy-Smith America Invents Act, a comprehensive overhaul of the US patent system that some hoped would help curb patent litigation, among its many other effects. The AIA went into force in March of last year, and it's now clear that that didn't happen.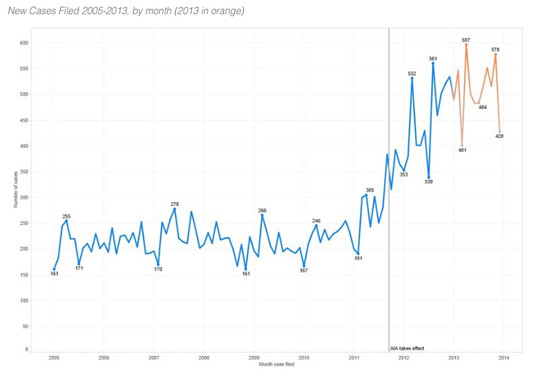 That vertical grey line shows that 2011's America Invents Act didn't slow the rise in patent litigation
(source: Lex Machina – click to enlarge)
What's more, such litigation is being massively asserted not by inventors or companies that actually make things, but by groups merely in search of the almighty dollar.
"Every single one of the top ten most prolific filers of patent lawsuits in 2013 was a patent monetization entity," writes Lex Machina, using one of the four most common terms for such groups, the other three being non-practicing entities, non-operating entities, and – more popularly – trolls.
The top troll for 2013 was a two-headed beast: ArrivalStar/Melvino Technologies, a dynamic duo that filed 137 new cases in 2013. Close behind is Wyncomm at 131, followed by Thermolife International at 117. After that, the troll tabulation drops off significantly – check out the full report for more details.
Interestingly, however, Lex Machina discovered that if you instead count the number of distinct patents being asserted and not merely the number of lawsuits that have been filed, a different picture emerges: the Swedish telecommunications-equipment company Ericsson is the leader in that grouping, with 103 distinct patents under trial in 2013 – and they actually create things other than lawsuits.
"Of the top ten companies on this list," Lex Machina writes of the distinct-patent count, "only three are patent monetization entities – Intellectual Ventures I and II, and Ronald Katz Licensing. The rest are all operating companies, with Apple Inc. taking the #8 spot with 52 distinct patents under litigation in 2013."
Speaking of Apple, it also holds the unfortunate distinction of being the target of the most new lawsuits during 2013. "Apple and Amazon were named as defendants more than any other party – 59 and 50 cases respectively," Lex Machina writes. "After AT&T in the third spot (45 cases), the remaining list of top defendants reads like a who's who of major technology companies: Google, Dell, HTC, Samsung, Microsoft, LG, and HP."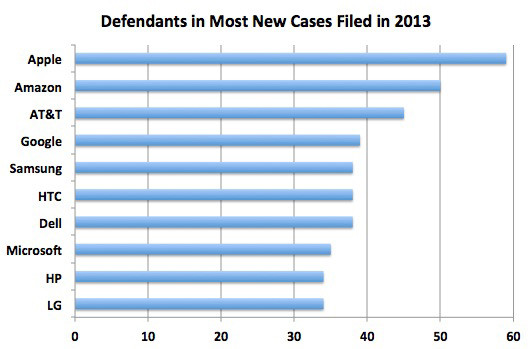 Deep pockets make for large targets (data: Lex Machina)
Another interesting tidbit from the report is the fact that trolling lawyers are picky about where they file. Of those 6,092 new patent-infringement cases filed in US District Courts in 2013, nearly half were filed in just two districts: the Eastern District of Texas (1,495 cases, a 20 per cent increase over 2012), and the District of Delaware (1,336 cases, a 33 per cent jump).
The top three most asserted patents? Let's get back to ArrivalStar/Melvino Technologies, which enjoyed a good run at waving US patents numbers 6,952,645, 6,904,359, and 7,400,970 at municipal transit agencies. Each of those patents deals with some form of traffic monitoring, and ArrivalStar/Melvino Technologies found it remunerative to wrangle settlements out of cities – paid for by taxpayer dollars, of course.
ArrivalStar/Melvino Technologies has since reached an overarching settlement with the American Public Transportation Association that will curb its shenanigans – but as Lex Machina's report shows, there are more than enough trolls lurking under their litigious bridges to take up the slack. ®