This article is more than 1 year old
The weird and wonderful mind of H.R Giger is no more
Swiss surrealist signs off after accident at home
Obit Hans Rudolf Giger, the Swiss artist and designer who scared a generation of movie-goers witless with his Alien creations, has died at the age of 74 after a falling accident at his Swiss home.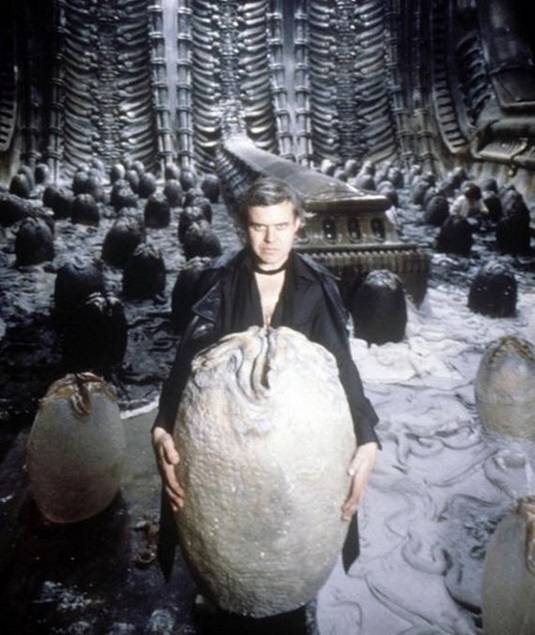 Giger on the set of Alien
It's a fair bet that a sizable proportion of El Reg's readership have some of Giger's extraordinary artwork at home, either from the Alien quadrology of films, on the covers of albums such as Debbie Harry's Koo Koo or Emerson, Lake & Palmer's Brain Salad Surgery, or with a dusty old copy of the Dark Seed series of computer games.
Giger's unique style of mixing biology and machinery in art, which he dubbed "biomechanical," was strongly influenced not only by the surrealist school of art but also by his lifelong problems with night terrors while sleeping. His largely monochromatic designs also helped induce similar rough nights for some of his audience.
He was born in eastern Switzerland in 1940 and studied art from an early age, despite being warned by his parents that there was no money in it. He completed his studies in architecture and industrial design at Zurich's School of Applied Arts before becoming a full-time artist, film director, and designer.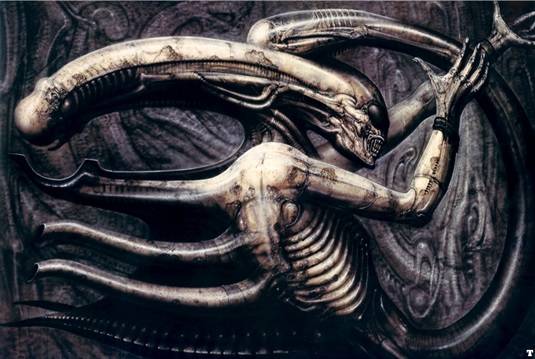 The image that inspired millions of nightmares
Giger worked initially with airbrushes and was in demand as an artist for album covers, as well as for individual works. His 1976 lithograph Necronom IV caught the eye of a then-young Ridley Scott, who hired Giger to develop the Alien ecosystem which was to strike fear into the hearts of a generation.
"He was a real artist and great eccentric, a true original, but above all, he was a really nice man," Scott said in a statement. "He will be missed."
Giger said that he created the Alien facehugger with human-looking hands to increase the fear factor. The facehugger's hands originally clutched at the top of the head, but set designers shifted them to clasping the sides of the victim's face, a change which Giger approved of.
The chestburster was inspired when Scott showed Giger Francis Bacon's 1944 triptych Three Studies For Figures At The Base Of A Crucifixion, featuring creatures whose heads were almost entirely made up of mouths. The creature's one appearance in the film is considered one of the most memorable moments in modern cinema.
The full-bodied adult alien took its biological inspiration from snakes and insects (and phallic imagery), while adding in pipes used in motor cars for veins and a substantial amount of KY Jelly for saliva. Giger also designed the crashed space ship with its dead pilot and the eggs used to house the facehuggers.
The Swiss artist freaked out many people on the Alien set with his habit of wearing nothing but black clothes and preferring to work in semi-darkness. Rumors flew about that he kept the skeleton of his dead ex-girlfriend Swiss actress Li Tobler for inspiration, but those who got to know him saw a softer side to the man and his wry sense of humor.
The success of the Alien franchise brought Giger's work plenty of attention and won him an Academy Award for Best Achievement for Visual Effects. He is credited on all four Alien films, plus the lamentable follow-up Prometheus and the Alien v Predator series.
His work also heavily influenced David Lynch's film Dune, and he worked on set design for the Species series of films, although he was unhappy with the final print. He also designed a batmobile for the film Batman Forever, but it never made it onto the silver screen.
Giger's art was used my many bands to illustrate their work, but not without controversy. When the Dead Kennedy's used his Landscape #XX (NSFW – it features multiple penises in coitus) for their 1985 album Frankenchrist, the band ended up on trial for obscenity. The band added a warning sticker to the cover reading "Some people may find [it] shocking, repulsive or offensive – life can sometimes be that way."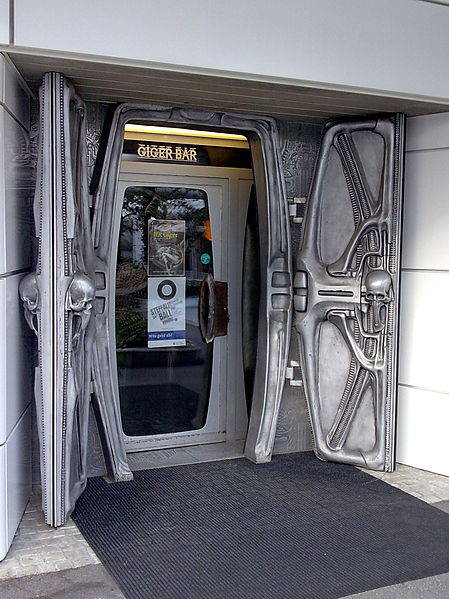 Not a place to have one too many
In later years, Giger moved away from airbrushing and into other forms of art, notably inks and sculpture. His designs include guitars, sculptures of futuristic weapons, and interior design – there are two Swiss Giger bars in Gruyères and Chur that he handcrafted, and which are guaranteed to make you feel queasy after one too many absinthes.
In 1998 Giger opened a museum housing the bulk of his works, along with those of other surrealist artists. The museum is still open today and no doubt inspires unsettling thoughts in the minds of visitors.
"I like if they are disturbed, yes, that's good," he said in an interview. "I hate if they don't look at it. I have people, they like my stuff or they hate it."
Giger is survived by his wife Carmen Maria Scheifele Giger, who is the director of the Giger museum. ®