Apple updates OS X Mavericks, iTunes, Podcasts for iOS
Not much to get excited about unless you have a 4K display or podcast addiction
Apple has released updates for OS X Mavericks and iTunes – versions 10.9.3 and 11.2, respectively – plus an update for the rudimentary Podcasts app for iOS, now at version 2.1.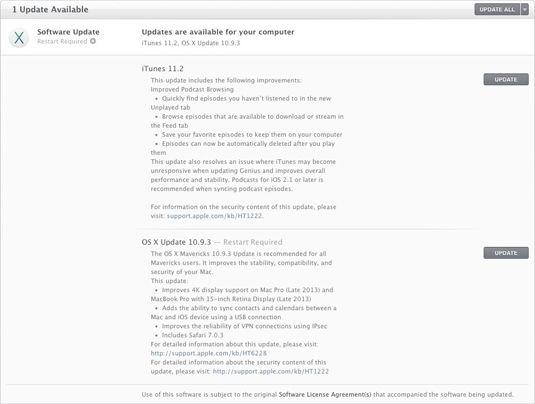 The OS X App Store offers info on what's new in Mavericks and iTunes (click to enlarge)
The Mavericks update isn't earthshaking, unless you've been having problems with a 4K display attached to your Guinness-can MacPro or your late 2013 15-inch MacBook Pro with Retina display – Apple says that 10.9.3 "improves 4K display support" for those models.
In addition to other bug fixes and niggles, you can now do something you should have been able to do all along: 10.9.3 "Adds the ability to sync contacts and calendars between a Mac and iOS device using a USB connection," and not just through services such as iCloud.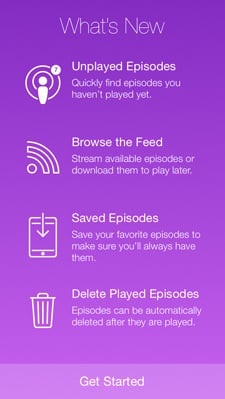 Welcome improvements to a sub-par app
In addition to fixing a bug that could cause iTunes to hang when updating playlist-building Genius data – count your Reg reporter among those so afflicted – both the iTunes for OS X and Podcasts for iOS updates focus on making the podcast-browsing experience less of a cause for weeping and gnashing of teeth.
Specifically, both now make it easier to find unplayed episodes on your Mac or device, browse episodes available for download, and save episodes on your device or have them deleted automatically after being played.
Podcasts for iOS now allows you to ask Siri to play specific podcasts – although the li'l lady misinterpreted our request to play Harry Shearer's Le Show, and played Randy Newman's "Linda" instead.
Podcasts also now supports Apple's CarPlay in-car infotainment system, allows you to start playing a station directly from the My Stations list, and lets you share podcast links over AirDrop.
You can find details on the OS X 10.9.3 update on Apple's website. The information provided about its security updates merely says that it "includes the security content of Security Update 2014-002," which was released last Thursday.
The Mac updates can be accessed through Apple Menu > Software Update, which launches the App Store app; you could also choose to download the 947.2MB Combo updater.
On your iDevice, launch App Store, tap Updates, and install the 1.3MB Version 2.1 of Podcasts. It's still not the most intuitive of iOS apps, but if you're an iPhone user who enjoys listening to podcasts, it still easier than converting podcasts into MP3s in iTunes using File > Create New Version > Create MP3 Version, transferring them onto your iDevice, and listening to them in the Music app.
That's just silly. Trust us. We've tried. ®