This article is more than 1 year old
Hey, who wants a 40TB all-flash Pure box? I dunno, you got $160k?
Storage upstart emits two new arrays – one going all the way up to 250TB of MLC NAND
Pure Storage has given birth to two more all-flash arrays, and updated its storage software by adding data protection features.
The FlashArray FA-400 line has had an FA-405 entry-level product and an FA-450 high-end model added to the existing FA-420, creating a three-model range.
The FA-405 has up to 40TB of "usable capacity" (it's actually 2.75 to 11TB of raw flash) and dual controllers, all in a 1U enclosure. Each controller has two Intel eight-core CPUs and 128GB of DRAM. Hosts link to it via 8Gbit/s Fibre Channel or 10GBitE.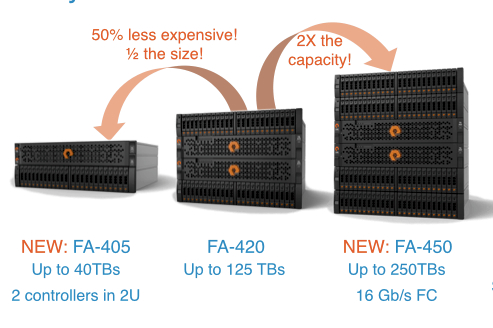 It runs the Purity 4.0 OS, and can be upgraded non-disruptively an FA-420 or FA-450. Pure suggests it can be used for VDI pilots and single database acceleration deployments. It delivers up to 100,000 32K IOPS and has a 3GB/sec bandwidth. The difference between usable and raw capacity is due to Pure's software deduplicating data and performing thin provisioning.
The FA-420, with its MLC flash, can have up to 125TB of "usable capacity" (11 to 35TB raw capacity) in its 2U rack-shelf form-factor, and is positioned for accelerating consolidated applications. The controllers, powered by two Intel 8-core CPUs, come in a 2U shelf with additional 2U storage expansion shelves holding SSDs using MLC flash.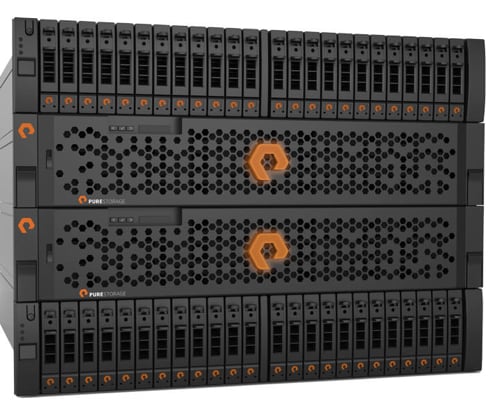 Pure Storage FA-400 as was ... it's now the FA-420
The product supports 8Gbit/s Fibre Channel and 10GigE access. It can be upgraded to the new FA-450 without disruption. Its claimed performance is:
Up to 150,000 32K IOPS
Up to 5GB/sec bandwidth
<1ms average latency
At the top of the range, and with a nicely calibrated maximum usable space of 250TB (34 to 70TB raw) is the FA-450. It has a 2U controller footprint with two 2.7GHz 12-core Intel processors, 512GB RAM per controller, and supports 16Gbit/s Fibre Channel.
This box delivers up to 200,000 32K IOPS with a 7GB/sec bandwidth. Pure says the 450 is "suitable for replacing racks and racks of Tier 1 disk storage for consolidated, virtualised workloads".
Both the 405 and 450 use the same MLC flash and shelves as the FA-420.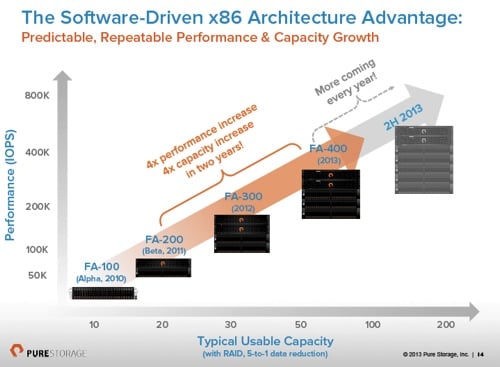 Pure May 2013 timeline for products
Pure had implied last year that more FA-400 or a future product version would come in the second half of 2013. According to that schedule, the 405 and 450 are a tad late.
Gen-4 Purity OS
Purity OS v3.0 was introduced in May last year and featured snapshot capability. Now, a year later, version 4 of the operating system has a FlashRecover set of features: replication; snapshots; and policy management services. The replication and snapshot services take advantages of the array's built-in deduplication, now branded FlashReduce.
Pure says "FlashRecover enables replication across the FlashArray 400 Series in any combination of fan-in/fan-out configurations, and supports replication of a single volume, consistent groups of multiple volumes, or all data content on the array".
The protection policies enable "users to manage various levels of local and remote data protection, and data retention by volume, consistency group, and/or array," with replication and snapshotting services managed through a single policy layer.
The use cases for these services include disaster recovery (DR) for mission critical applications, DR-as-a-service, multi-site test and development, content distribution, and remote office protection.
We're told Purity 4.0 has a FlashProtect feature that "combines new rapid data locking and dark site support services with existing always-on data-at-rest AES encryption and high availability (HA) to deliver military-grade data security and compliance".
Competitive stance
Scott Dietzen, CEO of Pure Storage, was modest in his canned statement: "We are delivering feature parity with incumbent high-end disk arrays ... FlashArray costs less, and yet delivers 10 times or better performance, power and space utilisation, reliability, and simplicity of operations. The OpEx savings alone versus traditional disk arrays allow our FlashArray to pay for itself over its first 3 to 4 years in the data centre, and it'll still have years of productive service to deliver after traditional mechanical storage has been written off."
The ability of mainstream disk array vendors to counter this message is weakened by them all offering their own all-flash arrays or all-flash versions of their disk arrays. The product competition is between Pure and Cisco's Invicta, EMC's XtremIO, IBM's FlashSystem, Fusion-io, NetApp's EF540/550 (and coming FlashRay), Solidfire and Violin Memory and others.
Pure, with a total of $470m of funding, is in a race to build a sustainable, standalone storage company in the face of concerted and emphatic mainstream array vendor competition. It has to out-develop, out-support, out-perform, out-market and outpace them while dodging a load of FUD flinging.
The FA-405 and FA-450 are available now through Pure's channel, and pricing starts at $3 to $4 per usable gigabyte, meaning the FA-405 would cost roughly $120,000 to $160,000 for a fully configured machine, we think. Purity 4.0 should ship in June, and will be a non-disruptive upgrade which is free for maintenance-contract customers. ®