This article is more than 1 year old
Why faff with a piddly microSD when there's a 2TB vault tempting your selfie-stuffed mobe?
Plus more new gear from storage world
Storage briefs There's been a storm of storage developments this week, so here's a round up of what you may have missed.
Mobe, slab selfie vault capacity boosted
Seagate's Wireless Plus devices for mobile gadgets now have three capacity points: 500GB, 1TB and 2TB – there was just a 1TB model before.
These drives are meant to store media files for smartphones and tablets over Wi-Fi to avoid cables, or USB 3.0 if you insist. The bundled software provides "a new option to save content and files to the drive through the updated Seagate Media app as well as the ability to migrate files to cloud services such as Dropbox and Google Drive".
The Wireless Plus's battery lasts up to 10 hours, and acts as a wireless access point. The product is available now with these suggested price tags:
2TB - $199.99 (£119 at today's exchange rate)
1TB - $179.99 (£107)
500GB - $149.99 (£89)
Seagate touts 1.5TB Wi-Fi drive under its Samsung brand
Seagate, under its Samsung Hard Drive brand, is flogging a 1.5TB external hard drive that devices connect to wirelessly: it can handle up to five devices at a time over Wi-Fi, and is positioned as a smartphone and tablet accessory.
Apparently 1.5TB is enough for 750 movies or 425,000 photos. The drive supports Android 2.3 or higher, Windows 8/7/Vista/XP SP2, and Mac OS X 10.6 or later. Its battery lasts up to 7 hours, and it can connect to other wireless networks to route internet access in addition to local streaming.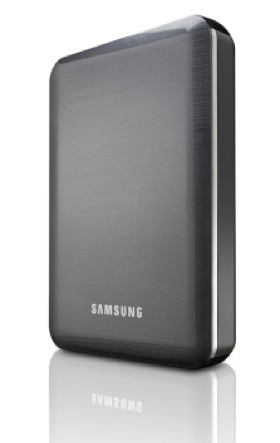 Samsung Wireless Drive
The Samsung Wireless Drive also has a USB 3.0 port, and it's available with a suggested price tag of $179 (£107) – the same price as Seagate's 1TB Wireless Plus drive.
Seagate bought Samsung's hard drive biz in December 2011, and was told by a Chinese regulator it had to keep the Sammy operation separate.
Perhaps that explains why the Seagate-owned Samsung-branded wireless drive tops out at 1.5TB, while Seagate's Wi-Fi disk goes up to 2TB and has a battery that lasts an extra three hours. It makes the Samsung-branded product look second rate. Still, it keeps the Chinese watchdog MOFCOM happy that the two operations are separate.
SanDisk crystal-ball gazing
Stifel Nicolaus managing director Aaron Rakers met SanDisk at an investor event, and he reports the following:
SanDisk's enterprise PCIe solid-state drive is still in development.
It's aiming to have the biggest market share in enterprise SSDs in 2017.
Pole position in the enterprise SAS SSD market is today held by Western Digital's HGST subsidiary with revenues of $457m in 2013.
SanDisk is preparing to launch 8TB and 16TB SSDs.
SanDisk's bit error rate is supposedly 5.5 times better than competitors when testing a fresh NAND die; at the end of a die's life, SanDisk's bit error rate is still 2.4 times better than rivals' chips, we're told.
SanDisk remains on track with its 3D NAND design, with pilot production in the second half of 2015, and production ramp in 2016.
It expects that, in 2015, 3D NAND will only constitute less than 10 per cent of global silicon wafer production; in 2016, it will be between 10 and 20 per cent; in 2017, it will between 25 and 35 per cent; and in 2018, it will make up 40 to 55 per cent.
Toshiba and SanDisk partner in flash foundry activities. The pair plan to start 3D NAND production in 2016, using a new plant costing up to $4.9bn (£2.9bn) at Toshiba's Yokkaichi plant in central Japan. The new factory will replace semiconductor spaffer FAB 2. We understand 3D NAND chips could hold 16 times more data than today's 2D planar NAND.
SanDisk has also been nurturing 3D ReRAM (Resistive RAM) for a long time, and hopes to introduce it in the later part of this decade.
The storage biz has also announced a self-encrypting SSD, the X300s, that's compatible with TCG Opal 2.0 and Microsoft's Encrypted Hard Drive technology. It uses a 256-bit AES FIPS 197 [PDF] certified engine to do the encryption in hardware, and spare the host CPU the burden of doing all the crypto.
It will be available in June, in 2.5-inch and M.2 2280 single-sided form factors, with capacities of 64GB, 128GB, 256GB, 512GB and 1TB – although only up to 512GB on the M2 version.
Tegile takes SMB 3.0 on-board
Hybrid flash-disk Zebi array startup Tegile now supports SMB 3.0. It "plans to develop storage systems leveraging several of the technology's key features".
Its announcement carries a canned quote from Eric Burgener, research director for IDC's Storage Practice: "With their SMB support, Tegile offers a flash-optimised, unified storage solution for Hyper-V customers, better enabling the mixed workload consolidation that wrings the most value out of flash-based arrays."
Tegile is also offering;
Offloaded Data Transfer (ODX) – Zebi arrays can directly transfer data within or between compatible storage devices without having to first pass through a host computer. This feature significantly frees up server resources while speeding up the process of moving or copying files.
System Center Virtual Machine Manager (SCVMM) Integration – Tegile arrays can connect with the Virtual Machine Manager within the Microsoft Operations Console to monitor the health and availability of virtual machines through a central location, as well as gaining an overall view of an enterprise's virtualized environment and servers.
Multichannel – this increases the network performance and availability for file servers through simultaneous dynamic network connections.
Tegile will deliver systems supporting SMB 3.0 by September of this year.
Tintri adds another supported hypervisor
Tintri's hybrid flash-disk storage array already supports VMware's ESXi hypervisor. Now it's adding Microsoft Hyper-V support and demoed it at Microsoft's TechEd 2014 conference in Texas this week, showing it off with VM-level data management support for both VMware and Hyper-V. Tintri's VMstore Hyper-V support encompasses:
Native SMB 3.0
Hyper-V Manager
System Center Virtual Machine Manager (SCVMM)
Ken Klein, chairman and CEO at Tintri, said: "Imagine running hundreds of mixed workloads – SQL Server, Exchange, SharePoint, VDI and development and test – concurrently on a single Tintri VMstore. Imagine simultaneously deploying Hyper-V and other hypervisors on a single VMstore and being able to move VMs between them as needed."
Tintri says its Hyper-V support enables:
Setup in less than ten minutes.
Scale virtualised environments from tens of VMs to thousands of VMs without additional storage provisioning.
Identify performance hot spots at the hypervisor, network and storage levels with end-to-end performance and bottleneck visualisation at each layer.
Protect individual VMs with customisable policies with snapshots.
Create hundreds of high performance, zero-space VM clones for speeding up VM provisioning for VDI and development and test workloads.
Deploy per-VM data protection and disaster recovery with WAN-efficient replication, global deduplication and compression.
There is a Tintri blog about the Hyper-V support. ®