The US Federal Communications Commission (FCC) has set the ball rolling on new rules that could allow companies to pay for prioritised internet traffic.
Tom Wheeler, the watchdog's chairman, put forward a proposal [PDF, details] "seeking public comment on how best to protect and promote an open internet". Two of his fellow Democrat FCC commissioners voted in favour of the motion on Thursday, in a 3-2 win that was split along party lines.
Americans will now have four months to voice their concerns over what net neutrality campaigners say is an attempt to create fast and slow lanes on the internet: they're against cable giants setting up tiers of connectivity, where moneybags websites pay to stream data faster than their rivals.
"I will not allow the national asset of an open internet to be compromised," Wheeler said. His proposal will ask citizens "if paid prioritization should be banned outright", and "promises clear rules of the road and aggressive enforcement to prevent unfair treatment of consumers, edge providers and innovators".
The chairman kept the door open for a multi-speed internet, saying "information about new practices, like any paid prioritization, to the extent that it is otherwise permitted" should be disclosed by ISPs.
The FCC has received about 21,000 filings from the public on the open internet issue to date. Today, some questioned his promises in a more direct manner ...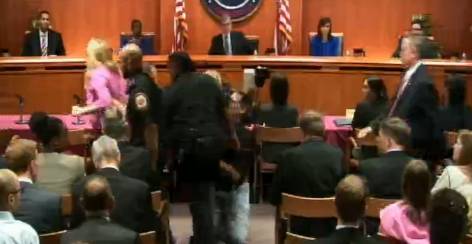 'Leave my beloved interwebulator ALONE'
One pink-sweater-wearing protester was marched out of the public hearing by officials at the FCC, after she vocally attacked the plans for paid deals between ISPs and online content providers. ®
Similar topics