Google Maps can now tell cyclists how HIGH they will get
Just online, unfortunately – so stash your laptop in your bag when in unfamiliar territory
---
Google has added elevation information for cyclists into its online Google Maps offering, a boon for those biking in unfamiliar areas, as well as for those who – like your humble Reg reporter – are well past their prime.
The feature is accessed simply by clicking on the bicycle icon in the map's info box after you input two locations as starting and ending points for Directions. You'll then be presented with a graph of the elevation changes over the course of the route, along with the highest and lowest elevations and the total elevation changes, up and down.
The new feature is apparently only activated when there's an appreciable elevation change along the route. We entered a number of relatively flat routes here in Vulture Annex's home town – for example, from our beloved San Francisco Giants' home field of AT&T Park to the tourist trap that is Pier 39 – and Google Maps' info box merely notified us that the route was "Mostly flat."
However, when we plotted a route from central San Francisco's Noe Valley neighborhood up over the gap between Twin Peaks and Mt. Davidson, then down to the foot of Golden Gate Park, we were informed that we would rise as high as 600 feet above sea level and dip as low as 10, while struggling upwards for 476 feet and coasting blissfully downwards for a total of 627.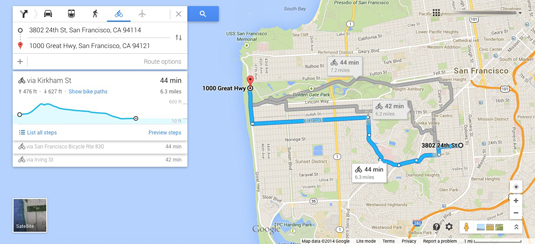 The Clipper Street route out of Noe Valley requires some serious low-gear pumping (click to enlarge)
As of this Friday, however, this helpful feature is not yet available on Google Maps apps for iOS and Android, though we hope it will be added in due course, as one tends to cycle more often with one's smartphone than one does with one's laptop.
We would also like to see the same info incorporated into Google Maps' walking directions. Although the online Google Maps does offer the option of displaying terrain when showing a walking route, it's a bit fiddly to figure out exactly how to avoid – or, should you be so inclined, choose – the steepest routes.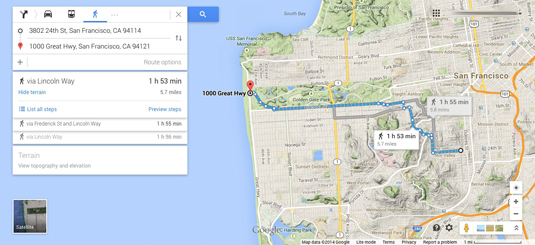 A walk from Noe Valley to the sea can be plotted to avid the lumpiest journey (click to enlarge)
Neither the cyclist's elevation graph nor the walker's terrain view are available in Google Maps' driving directions, however. So if you're a tourist motoring through San Francisco who wants to summit Pacific Heights from the Marina, and you're in a wheezy manual-transmission beater and unfamiliar with restarting from near-vertical at a stop sign, take this native San Franciscan's advice: go around – the waterfront can be a rather pleasant drive. ®